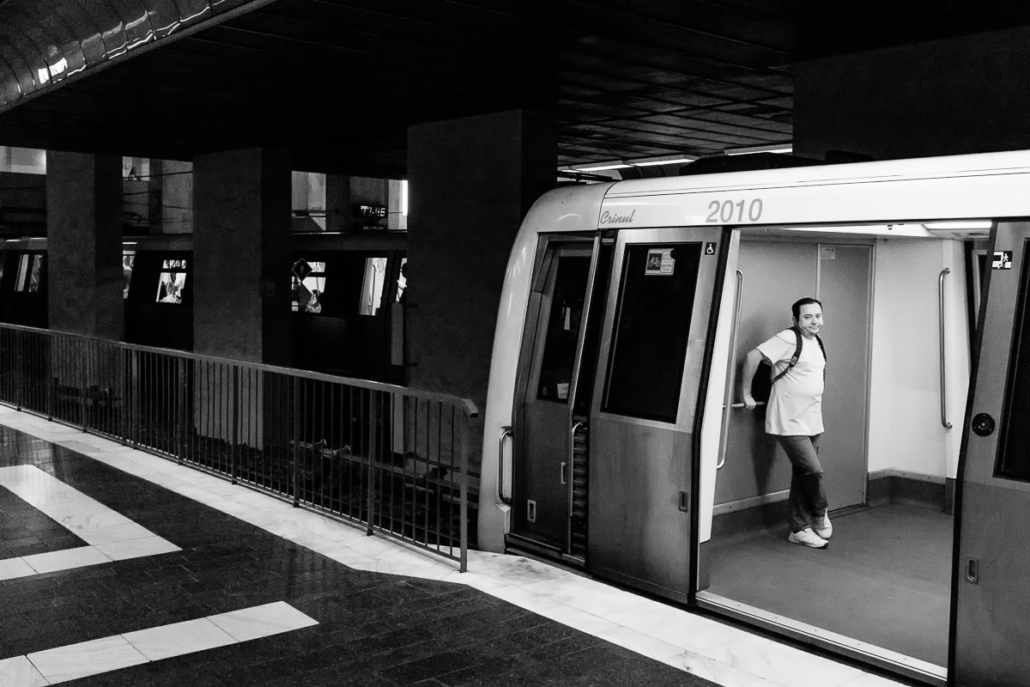 Bucharest Underground. Bucharest, Romania, 2016.
It's been a while I haven't spent a little bit of time in Bucharest. I've lived there for almost a year, but since I've left 9 years ago I've concentrated my visits to the concert halls, the French Embassy or the airport. Mot much of a visit! But this time, as I was invited as special guest by the On Spot street photography group, I managed to take a little more time to wander in Bucharest's older quarter, and much more, in its metro.
As for Airports, I love shooting in the metro. For the same reasons I think: lines, contrast, movement… There is something else that airports don't have: the proximity. No large spaces here, you are close to the people. You are next to them, no matter what. Which is not necessary a bad thing. Isn't it Robert Capa who said: "If your pictures aren't good enough, you're not close enough" ? So you get the graphical environment of the airports at a smaller, closer scale. Not bad 🙂
This particular photo isn't a close shot, it's true. I was first attracted by the floor and its contrasty lines and shapes, which continue on the metro's wagon. I got my fair amount of line with the vertical pillars and the other metro on the other side of the station. But what makes this photo is the look of the man. In my first shots, which were framed a bit better I must say, he wasn't looking at me. But when he looked at my side with his bored face, I know it would be the keeper shot, even if I've just changed my position. Bored people are the best!
Do you like this photo? Click here and get an original, signed print in limited edition!
EXIFs:
Camera:Fujifilm X100T
Aperture: ƒ/5.6
Focale: 23mm
Shutter speed: 1/250s
ISO: 6400
Copyright: Pierre Pichot 2016, all rights reserved
https://pierrepichot.com/wp-content/uploads/2016/08/2016-08-19_Bucharest-Underground_web.jpg
800
1200
Pierre Pichot
https://pierrepichot.com/wp-content/uploads/2023/08/logo_2023.png
Pierre Pichot
2016-08-25 12:30:44
2016-09-15 11:04:17
Bucharest Underground