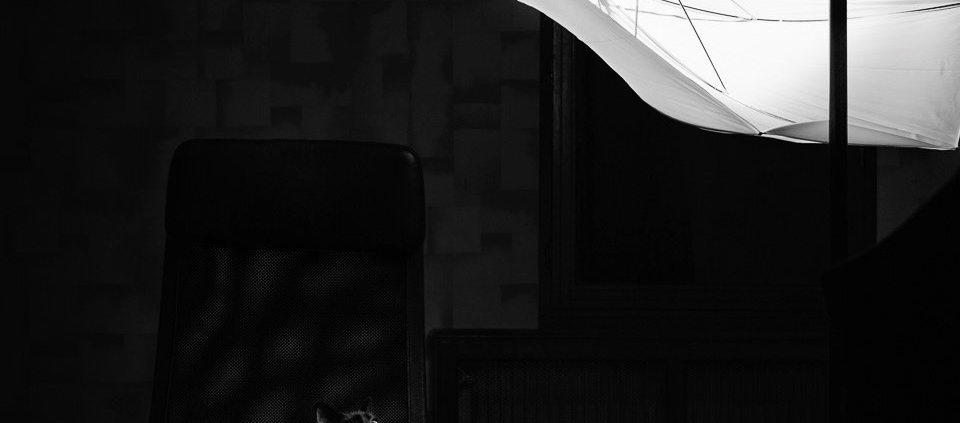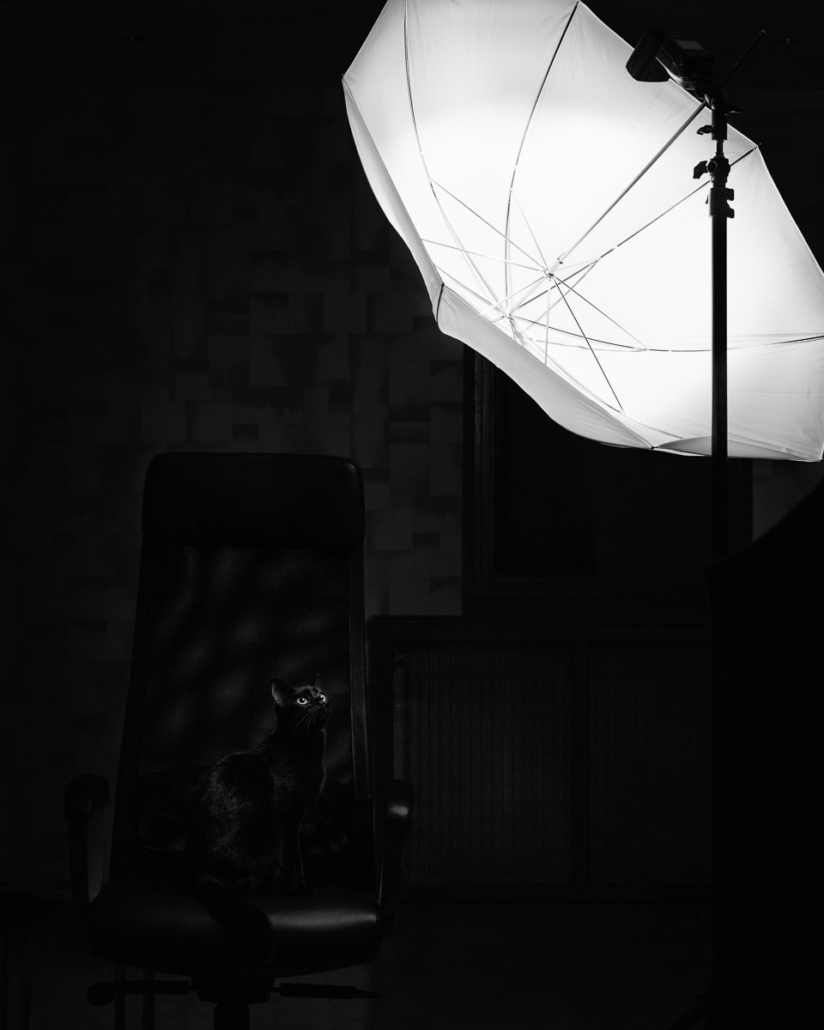 Yoko. Chécy, France, 2018. Get a print!
I've just moved to my new house and, for the first time for a too long time, I just got an idea for what could be a great photo. I searched for my gear across multiple boxes, found pretty much everything but… no battery nor charger. I just had the one in the Canon 6D, that was blinking to its death. The challenge was then to make a strobe'd autoportrait in just a few shots, and without remote.
Yeah, fun.
The first shot was both a focus preparation with my empty desk chair to simulate my head and a rapid lighting test. Then I sat on a stool and took 3 shots, before the camera died. Loading the photos in the computer from last to first, big disappointment, the photos just suck… until I reach for my very first test photo, where I noticed something I haven't even seen at first on the camera's screen: my cat, Yoko, has invited herself in the shot, and seemed very interested by this bright thing.
It definitively saved my day.
Get a print!
Do you like this photo? Why not getting an original, signed fine art print in limited edition?
More about Ghost in the Stairs
For me, it's important to share as much info as possible about the photos I take. Therefore, here are the EXIFs for this photo:
Camera: Canon 6D
Aperture: ƒ/8.0
Focale: 70mm
Shutter speed: 1/180s
ISO: 100
Copyright: Pierre Pichot 2018, all rights reserved
https://pierrepichot.com/wp-content/uploads/2018/02/2018-01-12_Yokoportrait_web_2.jpg
1200
960
Pierre Pichot
https://pierrepichot.com/wp-content/uploads/2016/10/Logo_black-1.png
Pierre Pichot
2018-02-12 16:58:11
2018-02-12 17:10:37
Yoko

One of the most important aspects of my "real life" work (aka the one that brings food to the table) is the retrospective: an objective view on what went well, what went wrong, and how to improve. So, let's do this!
What went well
2017 started pretty strongly. The 2 books I was published in got released, WeStreet 2016 and the Street Photographer Book vol. 2. I also won the 2nd place in the Sony World Photography Awards 2017. Not bad for a start!
I also found the Heavy Machinery complex that fulfilled my thirst for urbex, and that also started the Ghost project.
Last but not least, a short trip to Portugal gave me a few good shots, like the Initiation well series.
It all happened during the first months of 2017. But then…
What went wrong
2017 has been a very busy year on a personal side. Change of job, change of country (going back home in France!), buying a house, living almost as a camper for a few months between 2 moves… it definitely has affected my craft. From summer until now I must say I haven't done much. It's a way to say I haven't done almost anything 🙂 Winter is definitely not a great season for me, I lose all my inspiration. I also had my mind occupied with a lot of stuffs that made photography go back a bit on a lower level during the last months.
And as a result, it has also hurt quite a lot my online presence. My blogging rate is now in limbo. Which is very, very bad, and has killed all the efforts I've put on. My Instagram following has risen a bit, but not as much as expected I must say. Well, this is what happened when you can't post daily! On Facebook, meh, stagnation. Anyhow, Facebook is kind of dead on the photo side. Groups are now going crazy (in the bad way), the Pages are nowhere to be seen, it's pretty much about occupying the place. The only surprise came from Twitter, where my following has grown a bit, without any effort.
So, to resume what went wrong this year: I've been out to shoot much less than what I should have, and whenever I was out I was not very productive.
At least, this period gave me the time to think a bit more on what to focus on in 2018…
How to improve
Maybe the most interesting part of any retrospective: how to improve.
Being back in France close to Paris has a big advantage: there are a LOT of great photography exhibitions over there! I went to several expos, by Sebastião Salgado or the World Press Photo 2017 expo, and it struck me that reportage type photography is something that I would love to do. Not telling a potential story with an artsy photo like I've done until now. Telling a real story. I really think this is the path I want to follow this year, in the next years. I don't have yet the key to realize this, but I fell this is what I have to do. Locally at first, maybe telling the story of interesting people around me, and then I'll try to expend my range.
If you guys have any suggestions, please comment !
Conclusion
That was my short retrospective of 2017. A frustrating year, photography wise, where I feel I've taken a step back. And you, dear reader, how was your year?
https://pierrepichot.com/wp-content/uploads/2017/09/2017-09-15_A-glimpse-of-light_web.jpg
800
1200
Pierre Pichot
https://pierrepichot.com/wp-content/uploads/2016/10/Logo_black-1.png
Pierre Pichot
2018-01-09 13:00:29
2018-01-09 12:16:48
2017 retrospective
Get a print!
">

Good news for you fine art lovers! Thanks to a new partnership I have changed the range of available prints as follow:
Larger prints: having received only orders for 30×45 cm or larger prints (except one), I have taken out the smaller format, 20×30 cm, from the catalogue. But it remains available, as is any custom size, on special order. On the larger sizes I have introduced 60×90 cm prints.
Lower prices: the big deal of this new partnership is to provide lower prices for my fine art prints! I want you to be able to display my photos on your wall, and for that it is important to have a fair price.
More options: Do you prefer dibond instead of fine art paper? A larger, or smaller format, maybe with a different ratio? Everything is now possible, just contact me and we'll find a soluton.
Tax reduction for companies: buying pieces of art for displaying in your company may positively affect your taxes by including a partial or full price of the pieces as a tax reduction.
https://pierrepichot.com/wp-content/uploads/2015/03/2015-02-25_Book-shop.jpg
853
1280
Pierre Pichot
https://pierrepichot.com/wp-content/uploads/2016/10/Logo_black-1.png
Pierre Pichot
2017-11-27 12:52:43
2017-11-27 14:23:26
Fine art prints: now larger and more affordable!