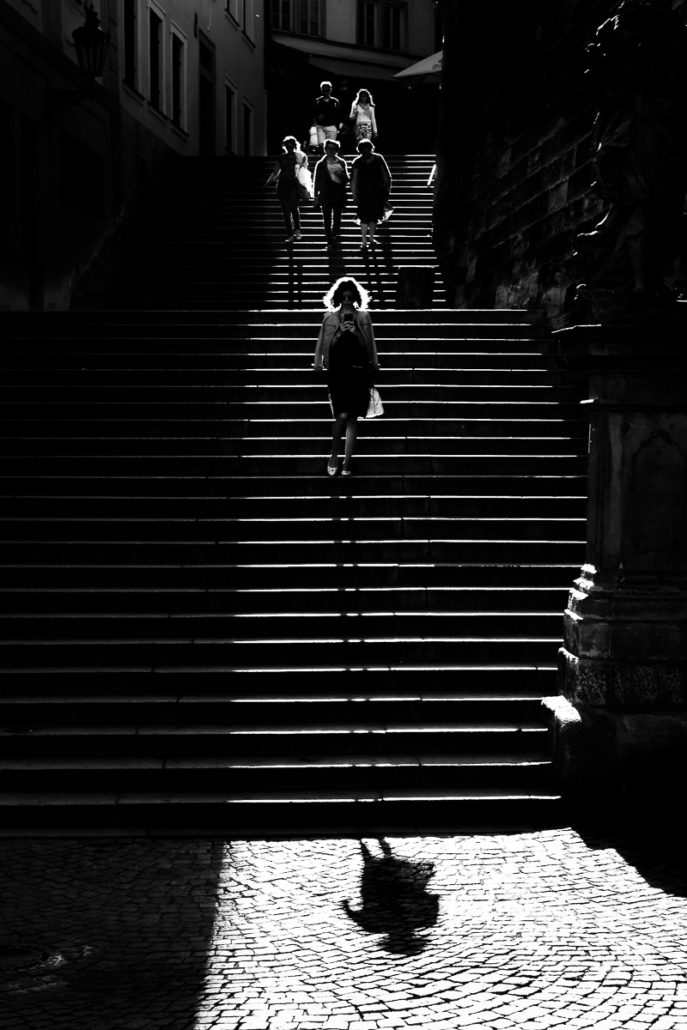 Prague has been a long time travel destination. It has this beautiful architecture, those small streets, and all those tourists that make it perfect for street photography.
This photo was taken next to Prague's castle, in the Little Quarter (Malá Strana for those who speak Jan Saudek's language). Just after going down the exit of the castle on the right, there is this street, with an incredible view of the whole city. But at the end of this street, there is these long stairs, leading to restaurants and bars hidden in nice old houses. But when you're lucky enough to have the sun just in line with these stairs, it's a festival of incredible shadows.
I had to wait quite a lot to get this photo. There are a lots of tourists, everywhere. It's a real challenge to get a clean shot there! And don't even get me started about the Charles Bridge! I wanted someone alone, just one single person going down these stairs, but it was too much to ask I think. I still managed to shoot this woman, with the longest legs in the world… according to her shadow at least! I also love the way the sun shines through her hair, like a bowl of fire above her neck. It's definitely one of my best shots of this trip!
I also have a few more photos from Prague, I think I make some new entries in my portfolio in the next weeks. And a few other trips in the most iconic places in France are also planned for this summer, so stay tuned!
Do you like this photo? Contact me for obtaining an original, signed print!
EXIFs:
Camera: Canon 6D
Lens: Canon EF24-70mm f/2.8L II USM
Aperture: ƒ/7.1
Focale: 70mm
Shutter speed: 1/60s
ISO: 100
Copyright: Pierre Pichot 2016, all rights reserved
https://pierrepichot.com/wp-content/uploads/2016/06/long-legs-woman-prague-travel-street-pierre-pichot-photography.jpg
1200
800
Pierre Pichot
https://pierrepichot.com/wp-content/uploads/2023/08/logo_2023.png
Pierre Pichot
2016-06-14 12:34:20
2016-06-13 15:01:26
Long legs in Prague