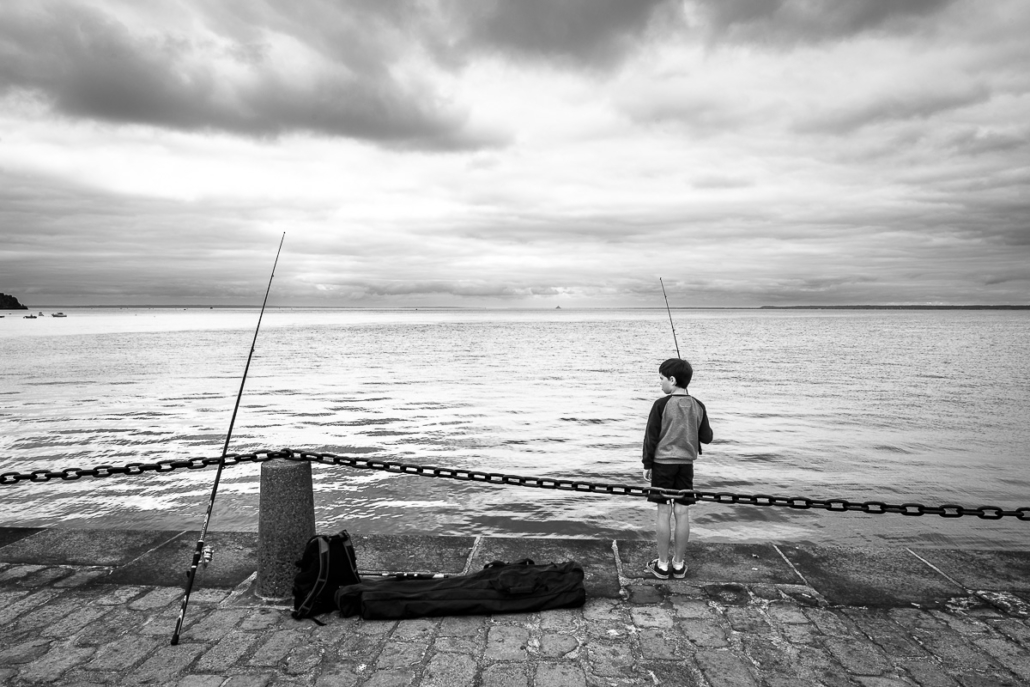 Young fisherman. Cancale, Bretagne/Brittany, France, 2016.
Cancale is a small town next to the sea in Brittany, France. Like every single town or city next to the sea, fishing is activity that is taken very seriously, at any ages. Cancale's main activity, besides fishing, is oysters farming. And, as a good Frenchman, I didn't forget to fill myself with a dozen, absolutely fresh oysters while I was there!
However, just before that, we've gone by the city's pier to just observe the sea. This is a view I can enjoy only a few days a year, unfortunately. It was one of those cold summer mornings, with a sky ready to blow and submerge you with torrents of rain. We were lucky, as big, dark, and threatening those clouds were, they left us in peace. So, by the pier, this little boy was training to throw his line as far as possible in the sea. It took a few tries, but he did it. His father left him in charge of the fishing rods, joining a friend of his a bit further. We had a proud, young fisherman there!
In front of him, the little black dot far away, is the famous Mont Saint-Michel, sitting just at the limit of the Brittany and Normandy border… on the Normandy side. There is a friendly war between those two about where the Mont Saint-Michel really is… but for this boy, it's just a small black spot on the other side of the bay!
Unfortunately for this young fisherman, it doesn't seem that he was able to eat fish that day… surely next time!
Do you like this photo? Click here and get an original, signed print in limited edition!
EXIFs:
Camera: Canon 6D
Lens: Canon EF24-70mm f/2.8L II USM
Aperture: ƒ/11
Focale: 24mm
Shutter speed: 1/125s
ISO: 100
Copyright: Pierre Pichot 2016, all rights reserved
https://pierrepichot.com/wp-content/uploads/2016/08/2016-07-26_Young-fisherman_web-2.jpg
800
1200
Pierre Pichot
https://pierrepichot.com/wp-content/uploads/2023/08/logo_2023.png
Pierre Pichot
2016-08-12 12:24:51
2016-08-16 11:45:34
Young fisherman