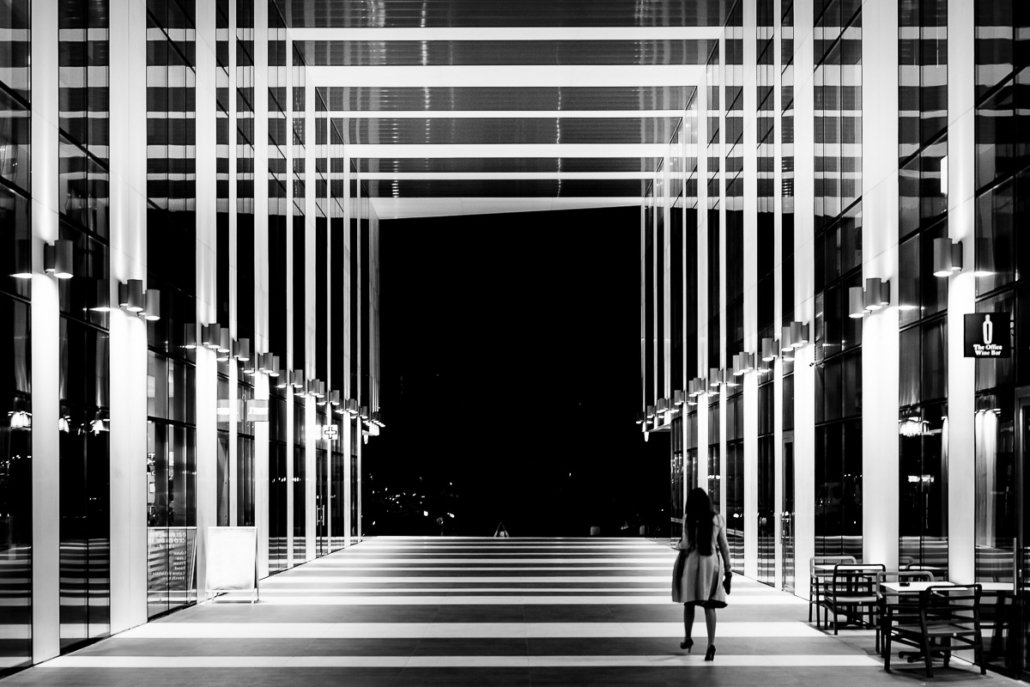 Strangers in the Dark XXIV. Cluj-Napoca, Romania, 2017. Part of the "Strangers in the Dark" project. Get a print!
This photo is definitely one of my favourites of 2017. The symmetry of that place is just incredible. The dark hole in the middle of the frame, the not yet lighted street, seems to suck all the light, and the main character of this photo, into its emptiness. Black hole vs bright lines, the fight of the contrasts is still raging out there! The graphic component of this photo is just incredible, typically what I'm expecting to find from a new building.
I must say it's a photo I didn't plan at all. I was just out testing my just received Sigma 50mm ƒ/1.4 Art lens when I came by this new "The Office" building. Being a brand new architecture I was expecting to find something interesting, one can say I got served, right? Keep in touch, part of the site is still in the works for a few weeks, I plan to go back there and get a few awesome shots!
By the way, the Sigma 50mm ƒ/1.4 Art is a great piece of glass, a review may come soon!
Strangers in the Dark project
Find out more about the Strangers in the Dark project here, and discover my favourite ongoing project!
Get a print!
Do you like this photo? Why not getting an original, signed fine art print in limited edition?
More about this photo
For me, it's important to share as much info as possible about the photos I take. Therefore, here are the EXIFs for this photo:
Camera: Canon 6D
Lens: Sigma 50mm ƒ/1.4 Art
Aperture: ƒ/2.8
Focale: 50mm
Shutter speed: 1/60s
ISO: 400
Copyright: Pierre Pichot 2017, all rights reserved
https://pierrepichot.com/wp-content/uploads/2016/11/2017-03-01_Strangers-in-the-Dark-XXIV_web.jpg
800
1200
Pierre Pichot
https://pierrepichot.com/wp-content/uploads/2016/10/Logo_black-1.png
Pierre Pichot
2017-03-30 12:02:55
2017-03-30 12:01:45
Strangers in the Dark XXIV