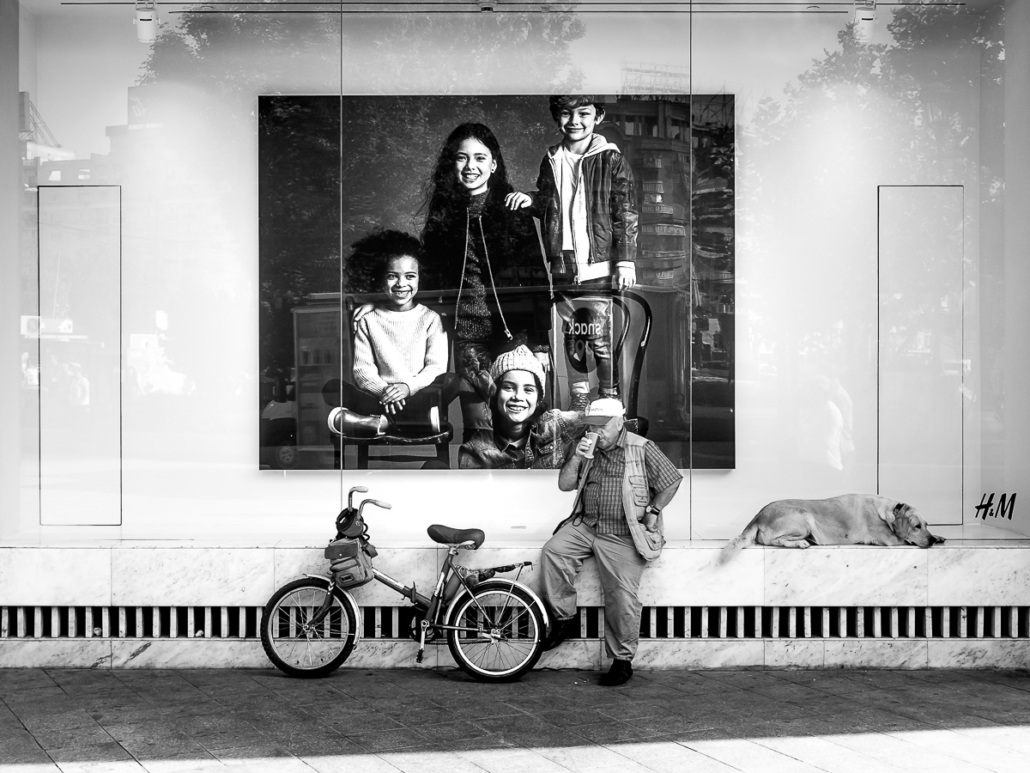 Family portrait. Bucharest, Romania, 2016. Get a print.
It's not always easy for street photographers to find a good background for their subjects… or a good subject for their backgrounds! But sometimes, everything is just as it's meant to be.
Ads are often seen as visual pollution, an argument that is very understandable, and that I may say myself. But used in a right way, with an artistic purpose, it may gain some sense beyond the "they make me want to buy items I don't want" thing. It's the case o this photo: the ad gives this grandpa a virtual family, a few grandkids to look after while he sips his coffee. Of course, that's just for a moment, just in my mind, but maybe that's a vision he has, or he had, who knows… A whole new story 🙂
I really enjoy these kinds of sweet juxtapositions. You can take two opposed entities – an ad campaign for a worldwide clothing brand and an old man with his bike and his dog – and mix them to give a new idea, a new purpose.
Do you like this photo? Click here and get an original, signed print in limited edition!
EXIFs:
Camera:Fujifilm X100T
Aperture: ƒ/5.6
Focale: 23mm
Shutter speed: 1/125s
ISO: 100
Copyright: Pierre Pichot 2016, all rights reserved
https://pierrepichot.com/wp-content/uploads/2016/10/2016-09-13_Family-portrait_web.jpg
900
1200
Pierre Pichot
https://pierrepichot.com/wp-content/uploads/2023/08/logo_2023.png
Pierre Pichot
2016-10-07 12:23:14
2016-10-06 14:00:20
Family portrait