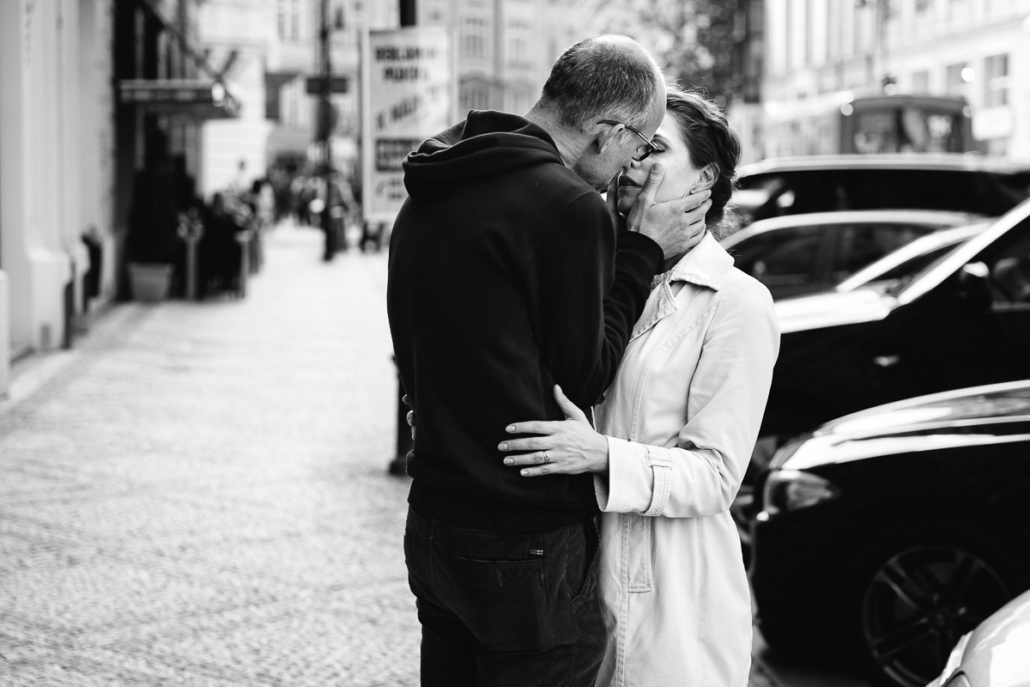 The kiss. Prague, Czech Republic, 2016. Get a print!
The street photographer's motto could be the same as the Scouts': "Be prepared"! This is something that's I've learned once again during my trip in Prague, while visiting the Josefov district (former Jewish ghetto of the city).  Coming out from another street, just at the corner, I've observed this couple saying goodbye in the kindest way possible: in a long and passionate kiss. It's one of those moments when I'm very glad I always have my camera in my hand, ready to shoot.
Despite a long and passionate kiss, something intimate I think, even if happening in a quite crowded street, the instant I always prefer to shoot if this second just before the lips touch each other, when you can see the actual emotions of the kisser – or the kissed – just before the magic happens. It's a far more touching moment to me, a moment of romance and peace for two persons in their own world for a few second, even if tens or hundreds of people pass by them.
It's one of the photos I prefer of this trip. While others are much more graphical or display pure childish joy, this photo is just so peaceful, but also so full of emotions, it really stands above the rest. And it was also one of my very first shots, it was like a sign it will be a good trip on the photography point of view, I was so pumped up for the rest of the day!
Fine art prints
Do you like this photo? Click here and get an original, signed print in limited edition!
More about this photo
Here are The Kiss's EXIFs:
Camera: Canon 6D
Lens: Canon EF24-70mm f/2.8L II USM
Aperture: ƒ/2.8
Focale: 70mm
Shutter speed: 1/320s
ISO: 100
Copyright: Pierre Pichot 2016, all rights reserved
https://pierrepichot.com/wp-content/uploads/2016/06/prague-czech-couple-kissing-love-travel-black-white-street-pierre-pichot.jpg
800
1200
Pierre Pichot
https://pierrepichot.com/wp-content/uploads/2023/08/logo_2023.png
Pierre Pichot
2016-07-05 12:46:41
2017-12-05 18:56:15
The kiss