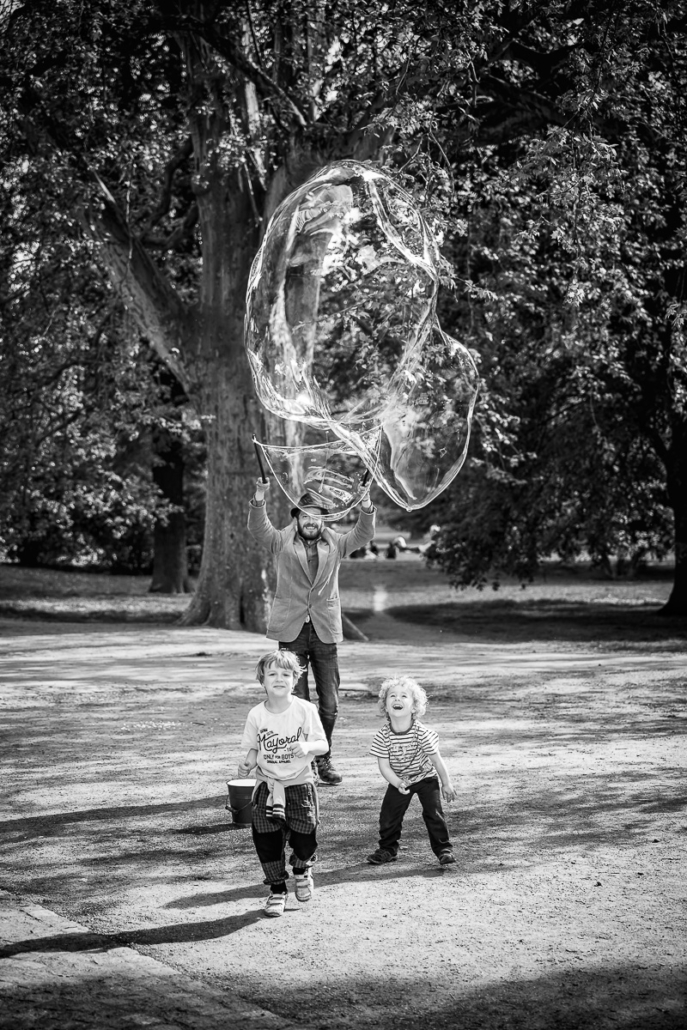 Bubbles, Prague, Czech Republic, 2016. Get a print!
Back to Prague (Czech Republic) with a photo that I really like… and totally forgot! This is why I like to go through my old photos from time to time, that's how you find some hidden gems. First it was Long Legs, now it's Bubbles. I almost lost what may be my 2 best shots of the trip, by just forgetting them. That would have been a shame. So fellow photographers, go through your archives from time to time 🙂
It was our last day, we were wandering in one of Malá Strana's parks without particular goal, when we were attracted by the noise of children playing, screaming of joy. And here we were, with that man we've already seen a few time making giant soap bubbles for the kids to run after, for their pure enjoyment. It was a very nice scene to watch, children playing children games, running like crazy in the park during a hot spring Sunday…
As the kids were busy with the bubbles, I've had all the time in the world to frame as I wanted and capture them going after a fresh, huge bubble. The reaction of the smaller child, as well as the happiness of the man, are just priceless to me. It's such a pleasure to capture those simple moments. Simple, but also full of meanings and life lessons. It just never hurts to take a step aside, leave our busy lives for a moments and enjoy the simple things of life.
You can enjoy other photos from Prague in a dedicated portfolio item.
Fine art prints
Do you like this photo? Contact me for obtaining an original, signed fine art print in limited edition!
About this photo
Camera: Canon 6D
Lens: Canon EF24-70mm f/2.8L II USM
Aperture: ƒ/2.8
Focale: 70mm
Shutter speed: 1/500s
ISO: 100
Copyright: Pierre Pichot 2016, all rights reserved
https://pierrepichot.com/wp-content/uploads/2016/06/2016-05-08_Bubbles_web.jpg
1200
800
Pierre Pichot
https://pierrepichot.com/wp-content/uploads/2023/08/logo_2023.png
Pierre Pichot
2016-06-30 12:28:24
2017-11-24 16:17:39
Bubbles