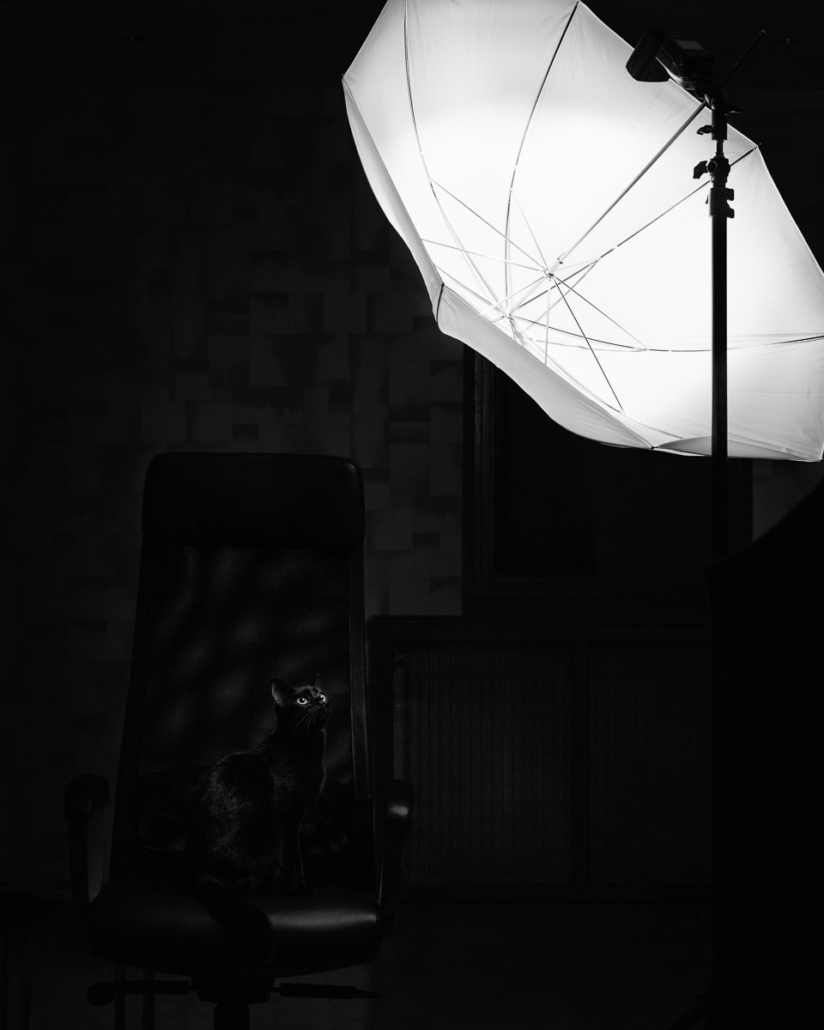 Yoko. Chécy, France, 2018. Get a print!
I've just moved to my new house and, for the first time for a too long time, I just got an idea for what could be a great photo. I searched for my gear across multiple boxes, found pretty much everything but… no battery nor charger. I just had the one in the Canon 6D, that was blinking to its death. The challenge was then to make a strobe'd autoportrait in just a few shots, and without remote.
Yeah, fun.
The first shot was both a focus preparation with my empty desk chair to simulate my head and a rapid lighting test. Then I sat on a stool and took 3 shots, before the camera died. Loading the photos in the computer from last to first, big disappointment, the photos just suck… until I reach for my very first test photo, where I noticed something I haven't even seen at first on the camera's screen: my cat, Yoko, has invited herself in the shot, and seemed very interested by this bright thing.
It definitively saved my day.
Get a print!
Do you like this photo? Why not getting an original, signed fine art print in limited edition?
More about Ghost in the Stairs
For me, it's important to share as much info as possible about the photos I take. Therefore, here are the EXIFs for this photo:
Camera: Canon 6D
Aperture: ƒ/8.0
Focale: 70mm
Shutter speed: 1/180s
ISO: 100
Copyright: Pierre Pichot 2018, all rights reserved
https://pierrepichot.com/wp-content/uploads/2018/02/2018-01-12_Yokoportrait_web_2.jpg
1200
960
Pierre Pichot
https://pierrepichot.com/wp-content/uploads/2023/08/logo_2023.png
Pierre Pichot
2018-02-12 16:58:11
2018-02-12 17:10:37
Yoko