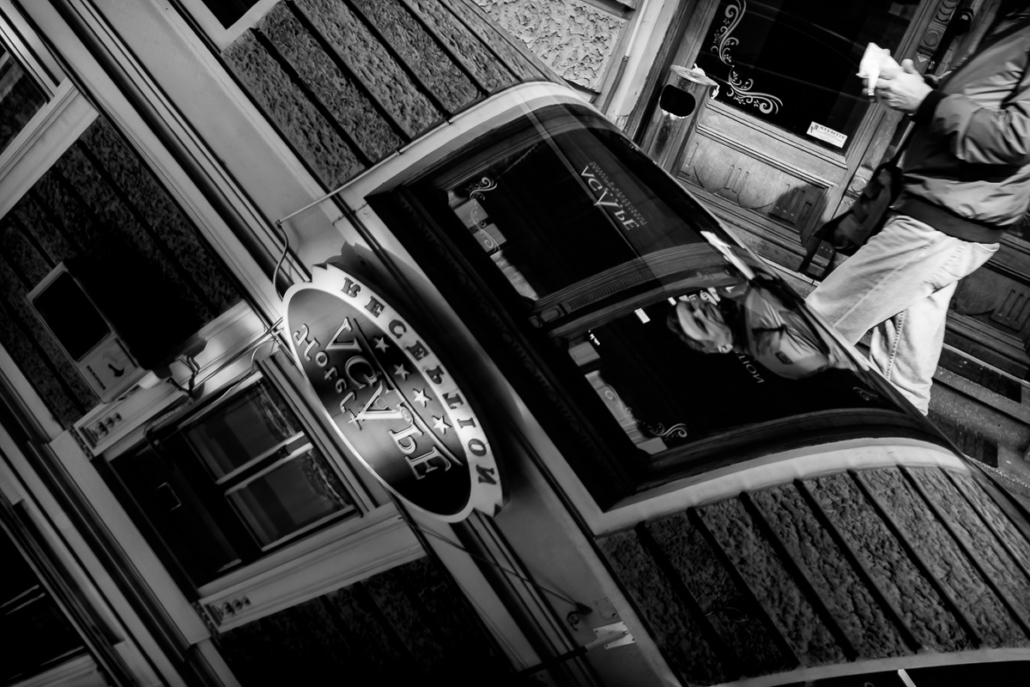 Reflection. Cluj-Napoca, Romania, 2016. Get a print.
Autumn has now come over Cluj-Napoca. The sky is grey, the temperature is dropping, everyone's mood (mine included) is less than stellar. It's time for challenging myself with a new approach in street photography: getting more abstract. I must admit that the way I've photographed the streets until now has been relatively orthodox in a composition point of view: classic rule of thirds, natural frames, etc. Of course, using lower shutter speed or lines has helped spicing things a bit. The dutch angle, too.
A good way to change the composition style is to search for reflections. It forces you to find a different angle, to frame in an original way. You often have to break the rules. Of courses, the rules of composition must be known before being broken… but that's were the fun lies, am I right?
I found a car with black tinted windows and windshield in a small street of Cluj-Napoca, Romania. Tinted windows usually enhance the mirror effect of the reflection, here nothing from the interior of the car is visible, while with standard windows the interior may be partially visible. It's a matter of preferences. For this photo, it was a perfect setup, as I wanted to get the very contrasty facade of the restaurant in front of me. Then, I just waited for someone to pass by. It took a few tries to obtain the framing I wanted, beheading the passer-by and have the reflection of his head and bust in the car's windshield, but in the end, it worked, pretty well!
Do you like this photo? Click here and get an original, signed print in limited edition!
EXIFs:
Camera:Fujifilm X100T
Aperture: ƒ/5.6
Focale: 23mm
Shutter speed: 1/125s
ISO: 400
Copyright: Pierre Pichot 2016, all rights reserved
https://pierrepichot.com/wp-content/uploads/2016/10/2016-10-10_Reflection_web.jpg
800
1200
Pierre Pichot
https://pierrepichot.com/wp-content/uploads/2023/08/logo_2023.png
Pierre Pichot
2016-10-13 12:18:02
2016-10-13 11:14:38
Reflection