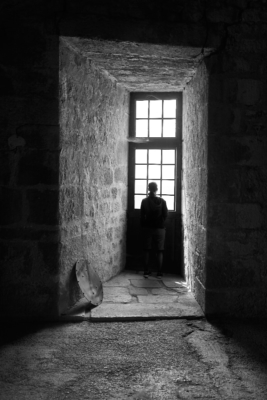 Château de Portes, France, 2020.
The Portes Castle (Château de Portes), situated in the Cévennes in the south of France, is a beautiful medieval castle built during the 12ve century. It has seen and survived quite a lot of events during the last 700+ years, until being almost destroyed in 1929 when the ground broke down due to the intensive exploitation of the mountains for coil. It has been restored in the last quarter of the 20th century to become classified as an historical monument.
I really like to visit old medieval castles like the Château de Portes. The history behind them, their architecture, the stones (pierre in french, my first name !)… they have an aura like no other monuments. They also offer a great photographic scene. The big windows spilling the light, reflecting on the ground and the walls of stones. I just love it, don't you?
Get a fine art print
Do you like this photo? Why not getting a beautiful, original, signed fine art print in limited editon ?
https://pierrepichot.com/wp-content/uploads/2020/08/2020-08-16_Chateau-de-Portes_Pierre-Pichot.jpg
1200
800
Pierre Pichot
https://pierrepichot.com/wp-content/uploads/2023/08/logo_2023.png
Pierre Pichot
2020-08-26 16:34:40
2020-08-26 16:34:40
Château de Portes