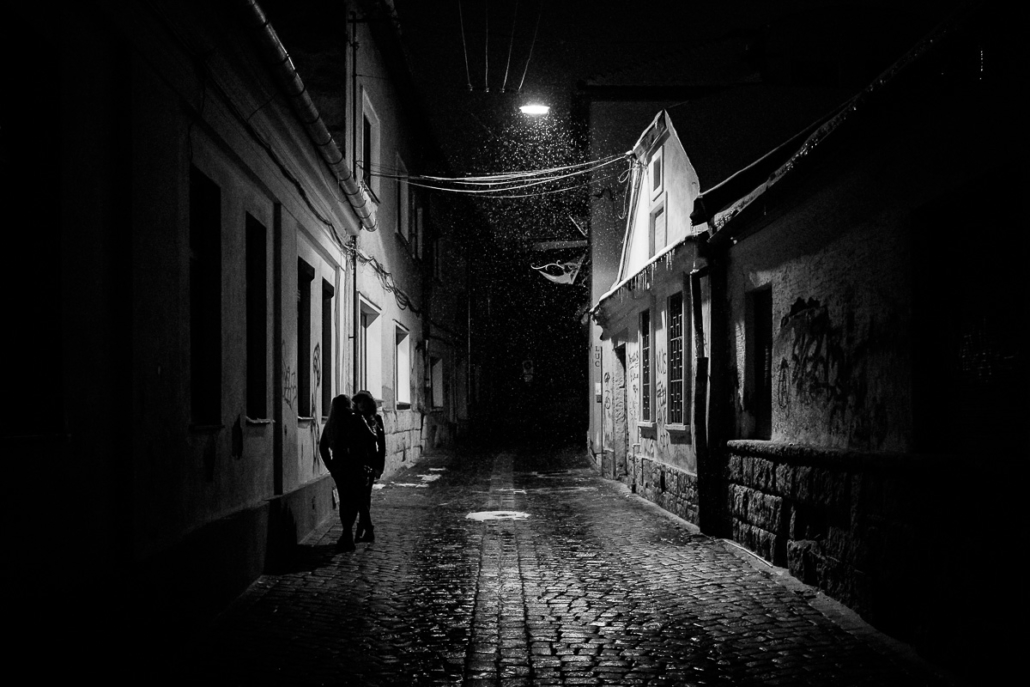 Strangers in the Dark IX. Cluj-Napoca, Romania, 2016. Get a print!
Winter has come, the night are starting earlier… and the snow started falling. A perfect setup for moody photos! We're back in Cluj-Napoca, Romania, in the old city center which used to be part of a citadelle, a long time ago. Old city center means small, narrow streets with old houses. Narrow streets mean great lighting when the night comes. And that is exactly what happened here!
I caught these two women in a passionate discussion in the cold. The snow started to fall pretty hard, they didn't care about it, absorbed in their stories. They left me all the time in the world to frame this shot the way I wanted it. Thanks girls! I really like those high contrast scenes. It's pretty much the way it was in real life. The whole street, not being very long, is illuminated by only one light at its middle. The end of the street then disappears in the dark. Who knows what may happen over there?
I was told this photo has a Brassaï "je ne sais quoi"… The comparison is quite amazing to me! Maybe because he was born in Romania, in the same Transylvania this photo was taken 😉 I hope he would have liked this photo.
Strangers in the Dark IX is part of my "Strangers in the Dark" project. It's a set of quite graphic and contrasty photos of strangers in poorly illuminated streets, at night, giving a dark and sometimes gloomy mood. Come and give a look to the whole project by clicking this link.
Do you like this photo? Why not getting an original, signed fine art print in limited edition?
EXIFs:
Camera:Fujifilm X100T
Aperture: ƒ/2.8
Focale: 23mm
Shutter speed: 1/60s
ISO: 6400
Copyright: Pierre Pichot 2016, all rights reserved
https://pierrepichot.com/wp-content/uploads/2016/11/2016-11-14_Strangers-in-the-Dark-IX_web.jpg
800
1200
Pierre Pichot
https://pierrepichot.com/wp-content/uploads/2023/08/logo_2023.png
Pierre Pichot
2016-11-30 12:23:32
2016-11-28 12:24:46
Strangers in the Dark IX