Strangers in the Dark III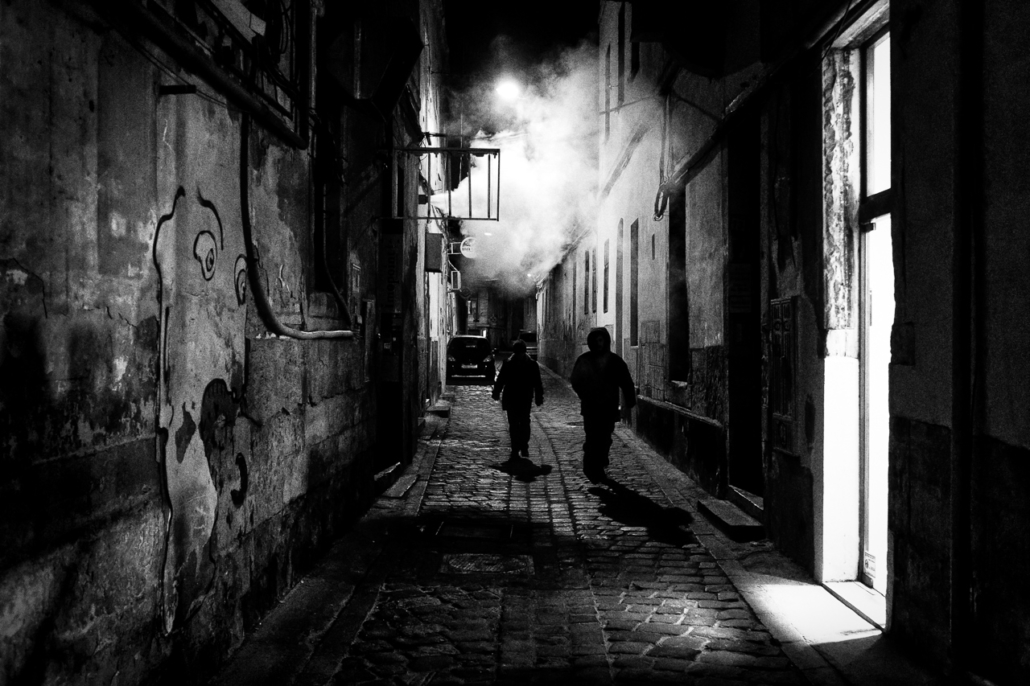 Strangers in the Dark III. Cluj-Napoca, Romania, 2015.
Third item from my "Strangers in the Dark" ongoing project, this photo is very intriguing but also very dear to me. I've passed by the little street I've shot it maybe a hundred time before that night of December, and I have never noticed anything. It's an old street with cobblestones, in the older center of Cluj-Napoca, very narrow, which gives on the Union Square. I've almost been there only by day, it was obviously a mistake, you have to go there by night.
It was a cold, winter night. I've just finished a bad day at work, I remember it was "not a good day for science", as they say… I needed to get my head clear, why not grabbing my now always-by-my-side Fujifilm X100T and get some fresh air… and maybe a few shots. When I was on the sidewalk on the Union Square I saw this steam cloud, and knew there was something to do with it. After a first few shots from far away, the light from a shop on the right got lit up and this huge, staring face made its appearance!
It was time for me to dive a little deeper in this dark street and take advantage of this new scene. Always observe what's happening, how you scene is changing, that's what I call owning the scene. Then I just need a little more patience to get the steam cloud visible enough and have people passing by, to get the right shot. A lot of patience actually, as the wind started to blow, it was pretty cold out there… But it's worth it, the effect is pretty spectacular, isn't it?
Do you like this photo? Click here and get an original, signed print in limited edition!
EXIFs:
Camera:Fujifilm X100T
Aperture: ƒ/2.8
Focale: 23mm
Shutter speed: 1/60s
ISO: 6400
Copyright: Pierre Pichot 2015, all rights reserved
https://pierrepichot.com/wp-content/uploads/2015/12/2015-12-16_Strangers-in-the-dark-2.jpg
853
1280
Pierre Pichot
https://pierrepichot.com/wp-content/uploads/2023/08/logo_2023.png
Pierre Pichot
2016-08-19 12:25:24
2016-08-18 10:06:34
Strangers in the Dark III