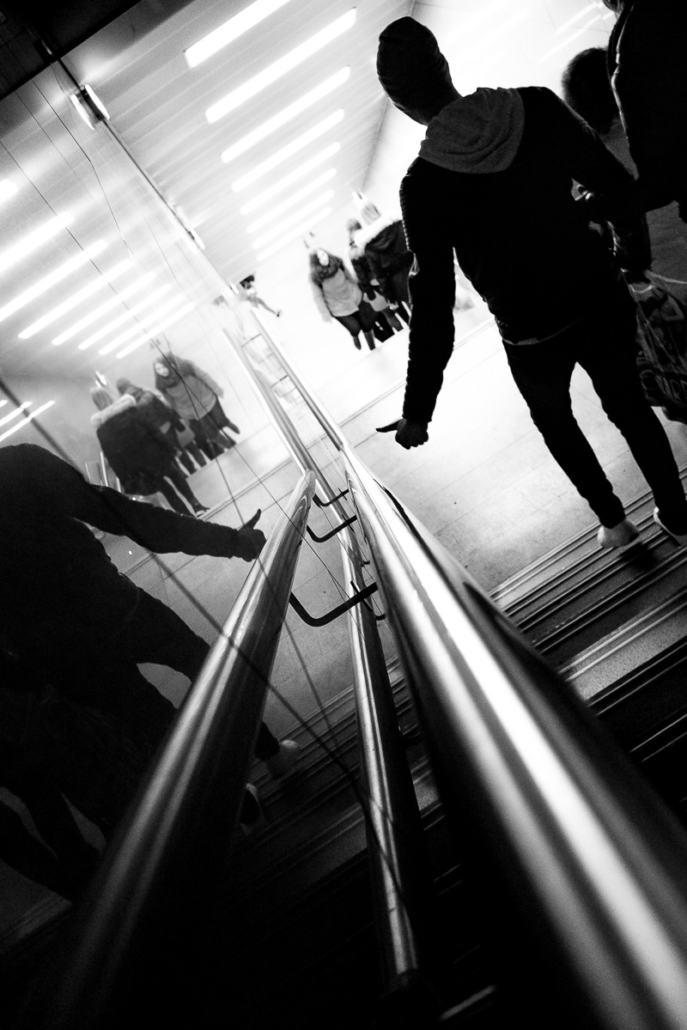 Thumb up! Bucharest, Romania, 2016. Get a print.
Shot in the very same underground stairs where Run! was taken, Thumb up! relates to one of the aspects of street photography that I really enjoy: the contact between the photographer, and his subject. And the best contact is a positive reaction to the photography, with this man raising his thumb high to express his support. Ain't it cool?
I know that a lot of street photographer insist on then fact that a photo must remain candid, in a way that the subject must not see the photographer taken a shot, in order to do not kill the moment. But when a genuine reaction like this occured, isn't it a candid shot too? The fact that the photographer has been seen provoked this man's interaction. And it gives us a much, much better shot than if he had just passed like nothing happened. As a result I enjoy much better when I get some interaction with the people I shoot, but without changing the way the things are e.g. stopping them while walking, forcing a reaction…
Besides, I like this photo for its graphical aspect. The chrome bar cuts the photo in two almost identical pieces at 45 degrees, with the reflection of the people in the marble. It would have been a cool shot. but with this finger up, it's for me a great shot!
This photo kind of concludes a set of photos I've taken during two evenings spent in Bucharest. I can't wait to go back and spend some time on the busy streets of the Romanian capitale.
Do you like this photo? Click here and get an original, signed fine art print in limited edition!
EXIFs:
Camera:Fujifilm X100T
Aperture: ƒ/5.6
Focale: 23mm
Shutter speed: 1/125s
ISO: 6400
Copyright: Pierre Pichot 2016, all rights reserved
https://pierrepichot.com/wp-content/uploads/2016/11/2016-10-17_Thumb-up_web.jpg
1200
800
Pierre Pichot
https://pierrepichot.com/wp-content/uploads/2023/08/logo_2023.png
Pierre Pichot
2016-11-11 12:59:55
2016-11-11 12:55:45
Thumb up!