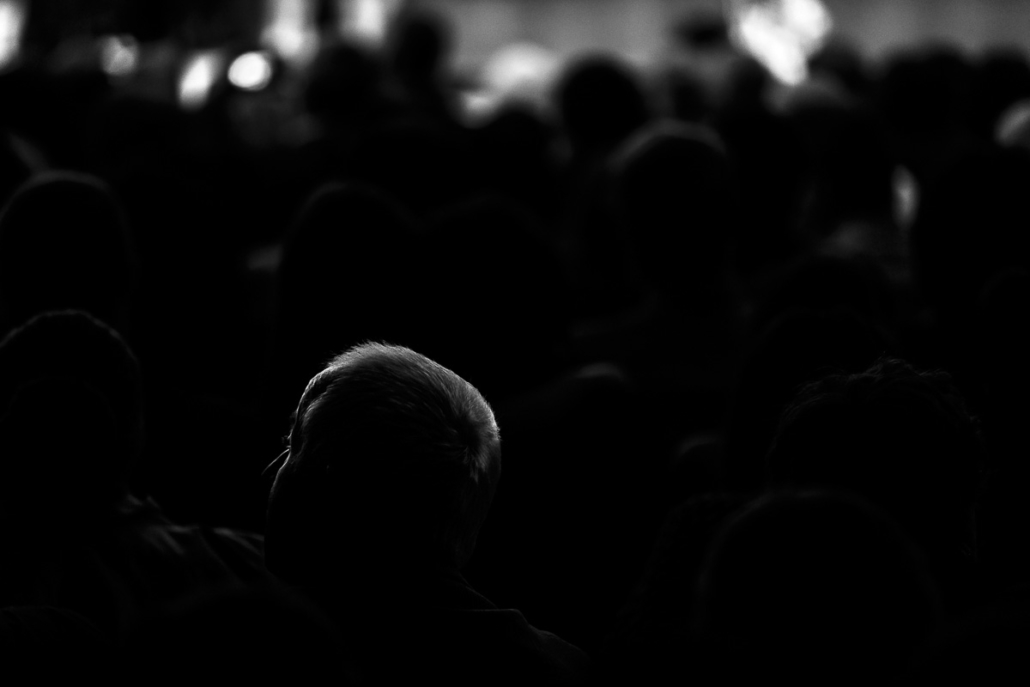 A few weeks ago I was attending a university graduation ceremony of one of the members of my family. I wasn't really in a artistic mode to be honest, much more in another direction like  "take portraits with the telephoto as you came late and can't get closer than 20 meters from the scene" mode. Not my favourite kind of photography, but being the only one in the family with correct photography skills, I was the one that got declared volunteer for this task. I think that it will ring a bell for all the photographers reading this blog post.
Once my relative got his diploma, it got really boring as there were still a LOT of kids that were to receive their precious paper. It gave me time to wander a bit and I found this grey haired man, in this theatre-like place. It was a pretty interesting figure: he was the only one with light coloured hairs, and he was reflecting the lights from the scene like none of the other people in the place. The time for me to move the camera to him, he looked at the other side (the scene is a bit more on the right hand side), and in this other direction he showed me a part of his face. Click, the shutter is released, at least I have my shot of the day 🙂
The processing was fairly straightforward using Adobe Lightroom to turn the photo in black and white and give a lower key feeling. Then, some tiny touches of dodge & burn to raise the overall contrast.
Do you like this photo? Contact me for printing fees!
EXIFs:
Camera: Canon 6D
Lens: Canon EF70-200mm f/2.8L IS II USM
Aperture: ƒ/2.8
Focale: 150mm
Shutter speed: 1/160s
ISO: 1600
Copyright: Pierre Pichot 2016, all rights reserved
https://pierrepichot.com/wp-content/uploads/2016/05/2016-05-14_Other-direction_web.jpg
800
1200
Pierre Pichot
https://pierrepichot.com/wp-content/uploads/2023/08/logo_2023.png
Pierre Pichot
2016-06-03 12:00:04
2016-05-27 11:16:01
Another direction