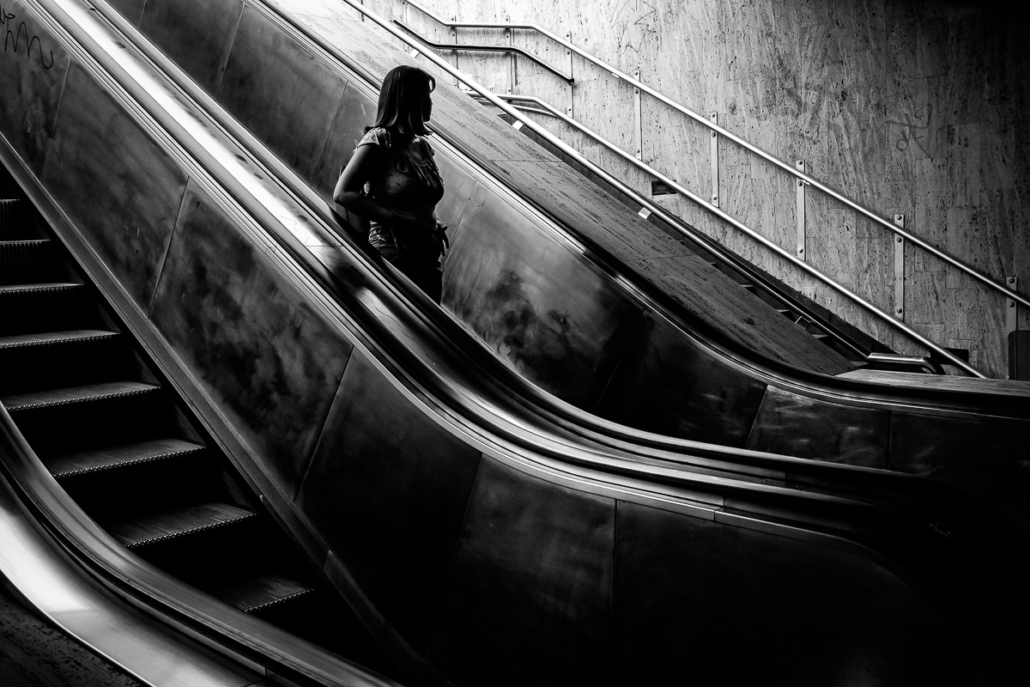 Electric stairs. Bucharest, Romania, 2016. Get an original, limited edition signed print.
Continuing my very own "Bucharest Festival of Lines 2016", in a similar environment. This time I've installed myself at the bottom of an underground metro station entrance, and waited for my subject. It was already late in the afternoon, the sun had already started to set for a few tens of minutes. This way, I could capture the difference of light between the dark inside and the shinier outside, but without a too large difference in light quantity. Unlike in a previous photo of mine, Stairway to…, I didn't want to have a high contrast between the inside and the outside, so I needed to wait for the right time to get the right amount of light. As I've already said, preparing and owning the scene are very important!
Next to that, I had 3 goals for this photo. First of all, I wanted to get lines. Recurrent readers know that I love lines 🙂 Look at all those diagonals! It's a heaven for me, it makes the photo so graphical and so dynamic in the same time. Second, it's a scene with a lot of textures. There is this stone wall, the battled metal of the electric stairs, the steps, all of them have their own texture that I wanted to be very visible. That is why lightning was important for me, avoiding to have a too strong contrast. Lastly, I wanted to anonymise my subject. People are often only an element of the urban landscape, and she definitively is only an accessory to the real subject here, the stairs. All of that gives a punchy photo that I really like. And I hope you like it too, don't hesitate to give me your feeling in the comments below!
Do you like this photo? Click here and get an original, signed print in limited edition!
EXIFs:
Camera:Fujifilm X100T
Aperture: ƒ/5.6
Focale: 23mm
Shutter speed: 1/250s
ISO: 800
Copyright: Pierre Pichot 2016, all rights reserved
https://pierrepichot.com/wp-content/uploads/2016/09/2016-09-13_Enter-the-station_web.jpg
800
1200
Pierre Pichot
https://pierrepichot.com/wp-content/uploads/2023/08/logo_2023.png
Pierre Pichot
2016-09-22 12:23:09
2016-11-11 12:53:52
Electric stairs