Baker Street Underground station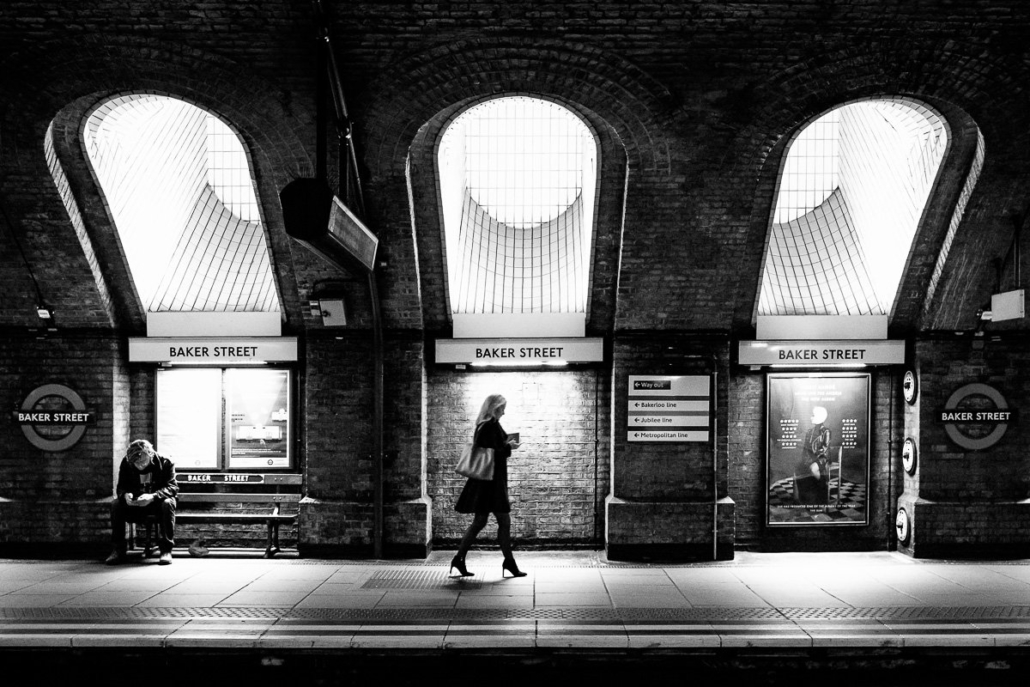 Baker Street Underground station. London, UK, 2016. Get a print.
Baker Street is not only known for the 221B, house of the famous Sherlock Holmes! It also hosts a fantastic underground station. I found this during a short business trip I recently did in London. This tube station opened in 1863, as one of the stop of the very first lines. It has since been extended with 3 additional lines. Because of that, its layout is quite complex, mixing different architecture styles across the platforms. While I was looking for this particular platform, I started by the newest one, getting back in time the further I progressed. Interesting trip in time, really 🙂
The older platform, pictured here, hosts the Hammersmith and City Line, one of the 2 first lines that opened in 1863. It represents quite well the Victorian architecture that was en vogue then. The pseudo arches with white tiles mimic the light from the outside. Pretty interesting! It's really a fantastic place that deserves a visit! It was already quite late in the evening, so the platform was not too full. I noticed this well dressed woman, I rushed to place myself so that I can frame her between two men, the one sitting, and the one on the poster. An almost perfect symmetry! Once again, I love to mix architecture, geometry and people in my urban photography, and this photo does is pretty well I think. I hope you enjoy it !
Please also note that no saxophones were hurt while taking this photo 😉 However I have been having Gerry Rafferty's song in my head for the past week!
Do you like this photo? Why not getting an original, signed fine art print in limited edition?
EXIFs:
Camera:Fujifilm X100T
Aperture: ƒ/4.0
Focale: 23mm
Shutter speed: 1/60s
ISO: 3200
Copyright: Pierre Pichot 2016, all rights reserved
https://pierrepichot.com/wp-content/uploads/2016/12/2016-12-08_Baker-Street-station_web.jpg
800
1200
Pierre Pichot
https://pierrepichot.com/wp-content/uploads/2023/08/logo_2023.png
Pierre Pichot
2016-12-16 12:51:27
2016-12-16 12:51:46
Baker Street Underground station