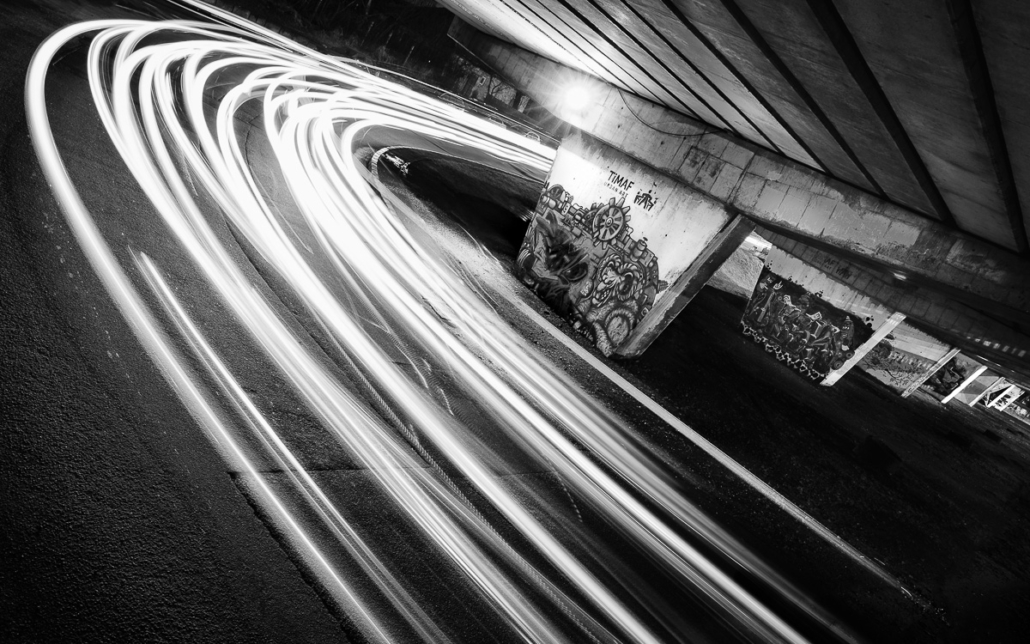 Under Marasti Bridge, Cluj-Napoca, Romania, 2017. Get a print.
The Marasti bridge is a famous piece of infrastructure in Cluj-Napoca, Romania. Beside its main purpose, being a bridge 🙂 , it is also a place where the street artists of the region can express themselves. It has been chosen as the main canvas for a grafitti contest for the TiMAF, the Transylvanian International Music and Art Festival, a few years ago. This mix of architecture, street art and partial urban decay is a great start for a new Urban Exploration project that will be my main focus in 2017.
I wanted a contrast, with those static but illustrated pillars. Something moving, dynamic. Luckily for me, the roundabout under the bridge is a good opportunity for playing with lights. I just needed to way for the night, and let the magic happen. The magic of longer exposures, 30 seconds in this particular case. I have movement, I have dynamic, and I gain a fantastic light with those curvy rays.
While it was not necessarily a complicated photo to take, I've had to be a bit more creative to get an interesting, dynamic framing and avoid boring features such as walls. The solution? My dear dutch angle, that helped me maximise the light rays area, while creating a bunch of diagonal lines and helped me pushing the walls just outside the frame. There was only one caveat: it was a windy night, the camera was hanging over the road below me, it was not very confident. Hopefully, my sturdy tripod didn't fail and kept everyone at bay!
Do you like this photo? Why not getting an original, signed fine art print in limited edition?
EXIFs:
Camera: Canon 6D
Lens: Canon EF24-70mm f/2.8L II USM
Aperture: ƒ/11.0
Focale: 24mm
Shutter speed: 30s
ISO: 100
Copyright: Pierre Pichot 2017, all rights reserved
https://pierrepichot.com/wp-content/uploads/2017/02/2017-02-08_Under-the-bridge_web.jpg
750
1200
Pierre Pichot
https://pierrepichot.com/wp-content/uploads/2023/08/logo_2023.png
Pierre Pichot
2017-02-17 18:53:38
2017-02-17 16:57:17
Under Marasti Bridge