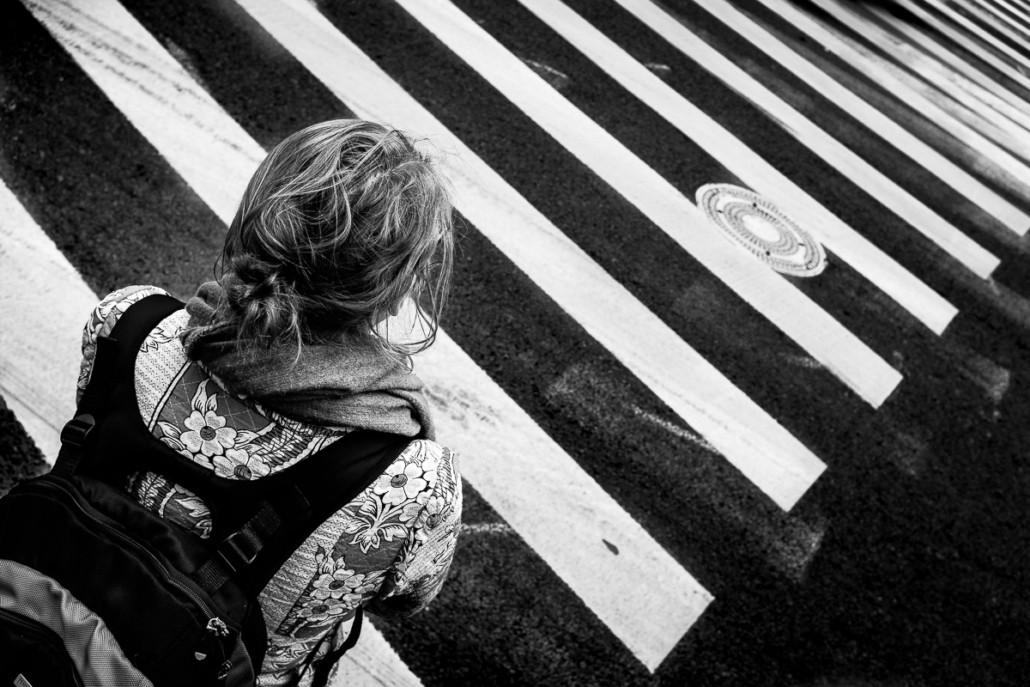 I called this photo "Dutch angle" as a reference to the famous camera tilt technique of "[setting the camera] at an angle on its roll axis so that the shot is composed with vertical lines at an angle to the side of the frame, or so that the horizon line of the shot is not parallel with the bottom of the camera frame". This is typically the kind of composition I enjoy. I love to play with lines and stripes and tilting the camera in a way that the cross walk stripes are now going diagonal make this photo so dynamic! This combination of now diagonal lines, in two directions, makes a perfect graphical background for street photography.
I shot this dutch angle photo during a street photography workshop part of the Photo Romania Festival 2016 in Cluj-Napoca. It's was the very first shot of the day, taken just before another picture that I've already blogged about. We were in a zone were road works has just been finished and those freshly painted stripes were just… tempting me, inviting me to do something graphical with them. How to refuse this invite? I'm happy this girl with her flowery coat just stepped in the frame, waiting for the green light to pop in. She was a perfect subject for this photo. The only challenge were the cars passing just in front of us, finding the exact timing was not easy but in the end, we did it!
The processing was fairly straightforward using Adobe Lightroom to turn the photo in black and white with Fujifilm's camera profiles. I just needed to raise the contrast between the asphalt and the white painted stripes, and voila!
Do you like this photo? Click here and get an original, signed print in limited edition!
EXIFs:
Camera:Fujifilm X100T
Aperture: ƒ/5.6
Focale: 23mm
Shutter speed: 1/500s
ISO: 320
Copyright: Pierre Pichot 2016, all rights reserved
https://pierrepichot.com/wp-content/uploads/2016/05/dutch-angle-street-black-white-pierre-pichot-photography.jpg
800
1200
Pierre Pichot
https://pierrepichot.com/wp-content/uploads/2023/08/logo_2023.png
Pierre Pichot
2016-05-27 12:15:30
2016-08-16 11:48:18
Dutch angle