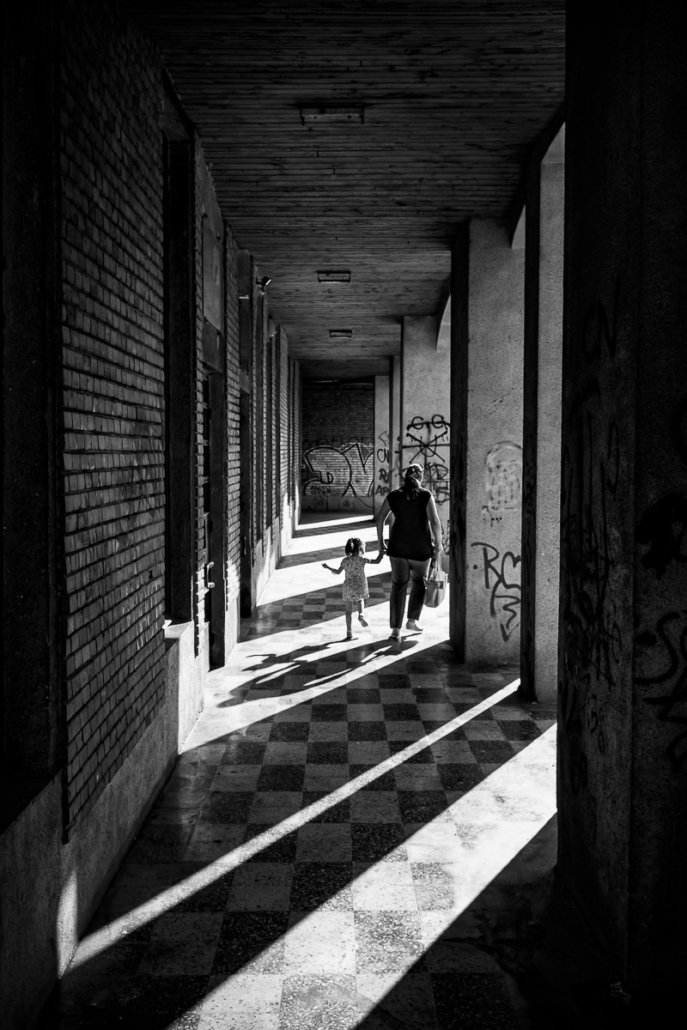 Mother & Daughter. Cluj-Napoca, Romania, 2016.
I was talking in a previous post about the importance of being always prepared for a street photographer, and I still stick to it. However, this time, I managed to take this shot because I was NOT prepared 🙂
I go by this nice, graphic place during almost all my photowalks in Cluj-Napoca (Romania). Unfortunately, it is situated in a small street that is almost all the time empty. And when I manage to find someone there, they always go on the other sidewalk, not under these particular arcades. This day, the shadows where very interesting, and I wanted to take a test shot, just for the sake of it. For some reason, my Fujifilm X100T didn't want to do anything, impossible to focus, impossible to shoot. Until I found out I forgot to take the protective hood out of the lens. Lame, right?
But not that much as on the very same moment this mother and her daughter pass by me continue their way, not minding at all my presence! One or two seconds to frame in a nice, symmetrical way and the photo is on the SD card. Have I not fiddle with my camera because of the forgotten hood, I would have just taken my test shot and continued my way, missing a pretty nice shot! Yes, sometimes, street photographers need luck. I've had a good share here.
I really like this photo because it contains a lot of what I try to pack in my photography: symmetry, shadows, graphic elements, and anonymous people. Usually street photography is about showing the human in its context. I always tend to prefer presenting the context with its humans within 🙂
Do you like this photo? Contact me for obtaining an original, signed print!
EXIFs:
Camera:Fujifilm X100T
Aperture: ƒ/5.6
Focale: 23mm
Shutter speed: 1/500s
ISO: 800
Copyright: Pierre Pichot 2016, all rights reserved
https://pierrepichot.com/wp-content/uploads/2016/07/2016-07-05_Mother-Daughter_web.jpg
1200
800
Pierre Pichot
https://pierrepichot.com/wp-content/uploads/2023/08/logo_2023.png
Pierre Pichot
2016-07-08 12:45:23
2016-07-08 12:45:47
Mother & Daughter