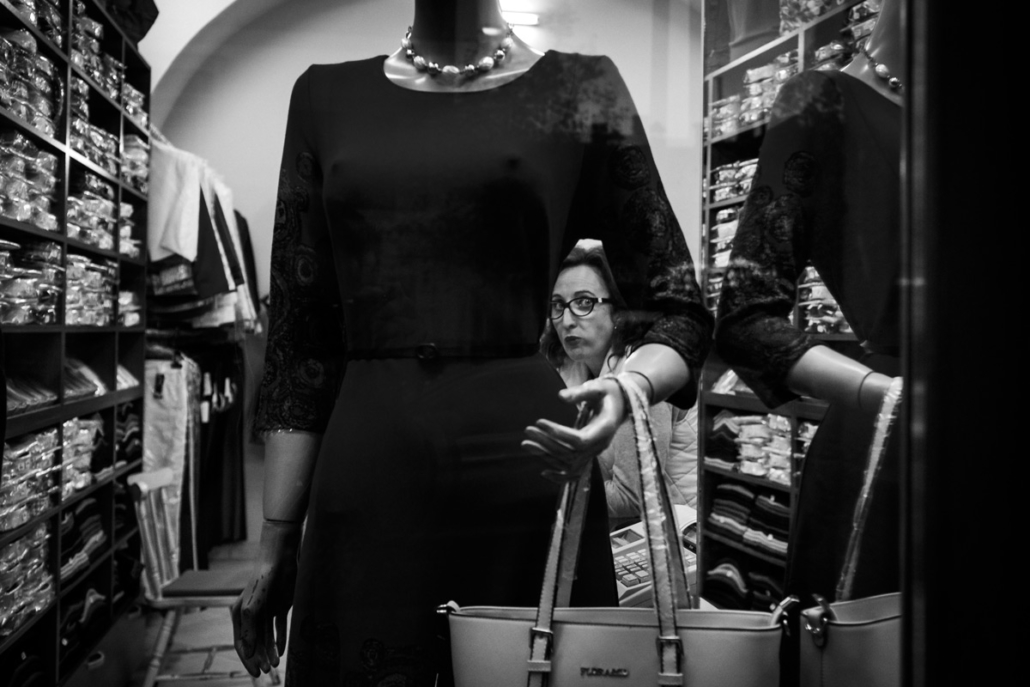 Surprise! Cluj-Napoca, Romania, 2016. Get a print.
The only perk of having the days shorter and shorter while winter is coming (yeah, mandatory reference here…), is that shops get illuminated much sooner, while they're still open. This way, we get rid of the over-reflection in the outside, but also the lightning becomes more and more interesting, from the inside.
I think I've scared this poor woman to death on that day. The surprise on her face is quite self-explaining! I was having a hard time to frame her correctly in the natural border offered by the model's arm as she was eating and moving. It took longer that I wished, and because of that she noticed me, stop moving, and looked at me with this "what the f*** is he doing" look that is absolutely awesome. The framing and the timing were just perfect, the shot was done, I smiled, she got back to her sandwich. It may not be the best photograph I've ever taken technically speaking, but it's once again the proof that the content and the correct composition make everything. Beside her expression, I just love how the model seems to have its head in its hand!
I've seen her again a few days later. The shop she works in is close to where I work. She definitely recognised me, but unfortunately I didn't have the photo with me at that time. For sure, the next time we meet, I'll show her this photo, and maybe give her a small print. It's a photo that has been having a lot of success on several groups and forums (over 2000 likes on Facebook!), it's the least I can do, right? It may be a good… surprise, for her 🙂
Edit: Surprise! has won 2nd place at the 2017 National Awards of the Sony World Photography Awards!
Get a print!
Do you like this photo? Click here and get an original, signed print in limited edition!
More about this photo
For me, it's important to share as much info as possible about the photos I take. Therefore, here are the EXIFs for this photo:
Camera:Fujifilm X100T
Aperture: ƒ/2.8
Focale: 23mm
Shutter speed: 1/125s
ISO: 1250
Copyright: Pierre Pichot 2016, all rights reserved
https://pierrepichot.com/wp-content/uploads/2016/09/2016-09-20_Surprise_web.jpg
800
1200
Pierre Pichot
https://pierrepichot.com/wp-content/uploads/2023/08/logo_2023.png
Pierre Pichot
2016-09-29 12:31:41
2017-03-28 10:32:17
Surprise!