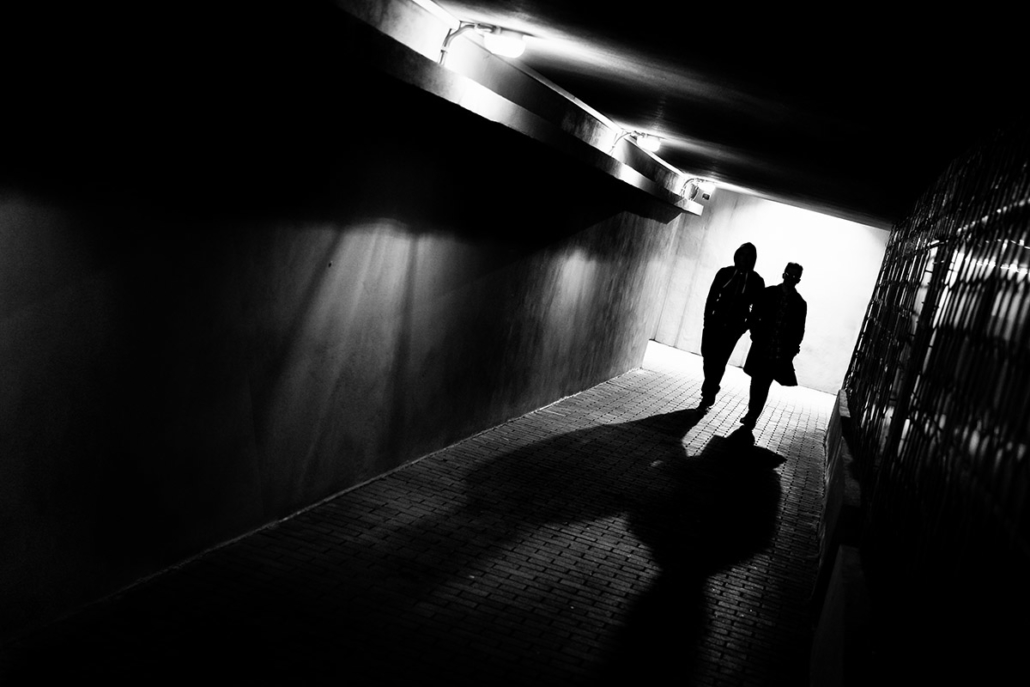 An unexpected duo. Cluj-Napoca, Romania, 2017.
Continuing my love for tunnels and corridors with this new photo from an underground passage in Manastur, Cluj-Napoca, Romania. This time, it was a raining evening, which means that the people preferred to go under the road in this creepy looking corridor rather than facing the rain outside. Good for me!
I spent some time experimenting with backlighting and the dutch angle. I've also had an interesting "chat" with two drunk people 😀 It was indeed an interesting evening. And then, a weird duo formed by lookalikes of Annie Lennox and Jean-Michel Jarre appears in front of me at the other side of the corridor. Pretty outstanding in my book 😀 Hopefully my framing was already tested on previously passing people, I just waited for their shadows to be at the right spot, and voilà!
Get a print!
Do you like this photo? Why not getting an original, signed fine art print in limited edition?
More about this photo
For me, it's important to share as much info as possible about the photos I take. Therefore, here are the EXIFs for this photo:
Camera: Canon 6D
Lens: Canon EF24-70mm f/2.8L II USM
Aperture: ƒ/2.8
Focale: 50mm
Shutter speed: 1/80s
ISO: 1600
Copyright: Pierre Pichot 2017, all rights reserved
https://pierrepichot.com/wp-content/uploads/2017/03/2017-02-22_Duo_web.jpg
800
1200
Pierre Pichot
https://pierrepichot.com/wp-content/uploads/2023/08/logo_2023.png
Pierre Pichot
2017-03-24 11:44:23
2017-03-24 11:44:23
An unexpected duo