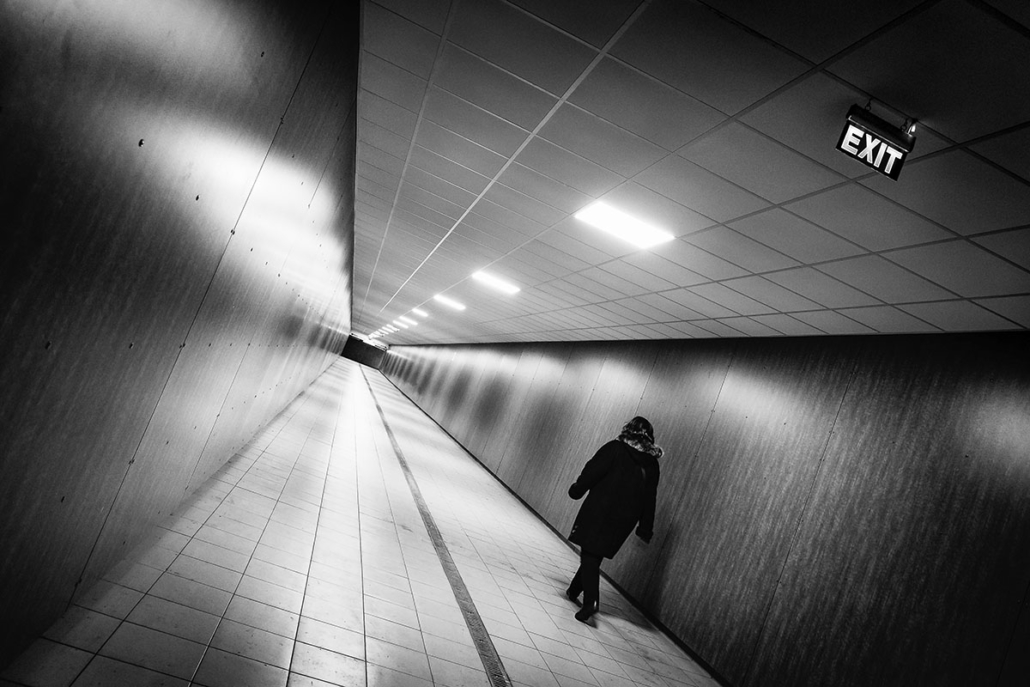 Exit. Cluj-Napoca, Romania, 2017. Get a print.
–
While I love winter for snowy, high key landscapes, it's a bit the dead period for my urban photography. It's cold, boring, there is no one in the streets. At least, I can play with the shops' showcases and surprise people but, well, that's a bit limiting in a small city like where I currently live. So, there is still a solution: finding closed spaces!
It got materialised with the newly extended underground passage at the Cluj-Napoca's train station. The first set of corridors has already been featured on my Strangers in the Dark project, it has actually initiated it! The very first shot of this project was taken in this very underground passage. A new leg has been recently opened to the public, in the form of a looooong corridor. Great!
There is only one caveat: no one goes through this corridor! Besides the classic, full symmetry with leading lines to the exit dead in the center, I wanted to experiment with other, more creative framing. Well, with just 4 people (!) passing by this corridor in 90 minutes, I was quite far from being able to try them all. At least, I've been able to get one of the shots I've targeted from the beginning, this shot. Framing at an angle, with a clear exit sign, and a person passing by, going through the corridor to the exit. I really like the dynamic of this shot, thanks to the use of negative space and of the dutch angle.
Now… I just have to go back there and hope I'll be able to get the shots I wanted, including some crazy long exposure ideas. But I think I'll wait for hotter temperatures, even if it was indoor, it was not heated, waiting in the cold is not that fun 🙂
Do you like this photo? Why not getting an original, signed fine art print in limited edition?
EXIFs:
Camera: Canon 6D
Lens: Canon EF24-70mm f/2.8L II USM
Aperture: ƒ/5.0
Focale: 24mm
Shutter speed: 1/60s
ISO: 2000
Copyright: Pierre Pichot 2017, all rights reserved
https://pierrepichot.com/wp-content/uploads/2017/01/2017-01-28_Exit_web.jpg
800
1200
Pierre Pichot
https://pierrepichot.com/wp-content/uploads/2023/08/logo_2023.png
Pierre Pichot
2017-01-31 12:38:58
2017-01-31 11:39:47
Exit