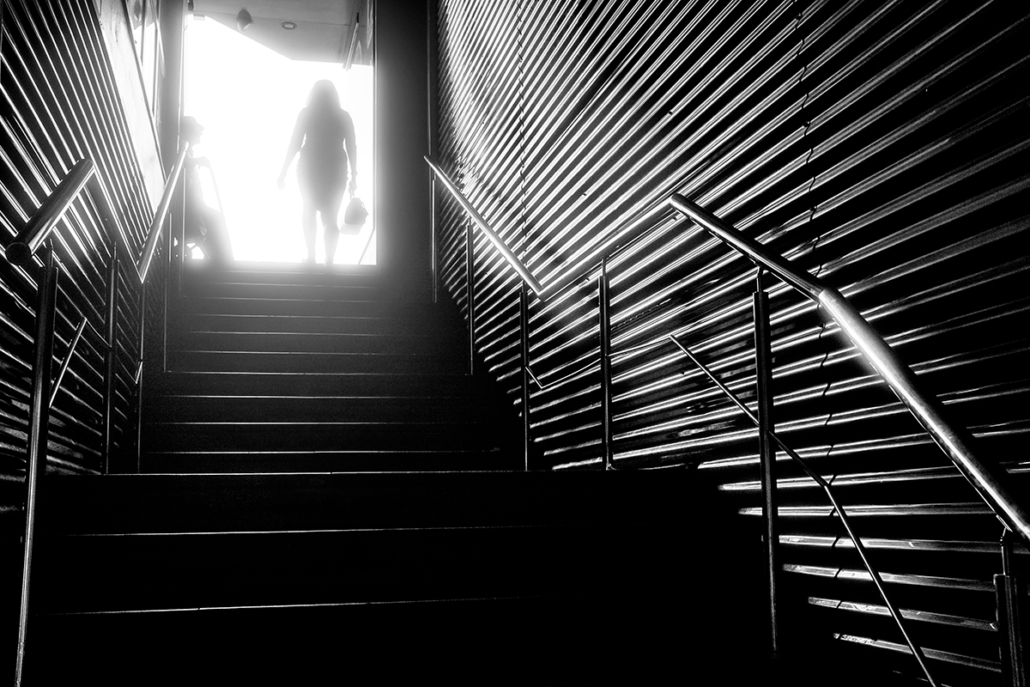 Stairway to… Bucharest, Romania, 2016.
My regular readers have now understood that I'm a very big fan of lines and graphical elements in my photos. It's even something I really try to include in my photography, as my eyes are so attracted by geometrical shapes. During a recent trip to Bucharest I've found one of my new heavens… in a shape of a stairway.
It's funny how in urban and street photography some great things happen when you don't expect it. I don't refer to the others' behaviour, which is unexpected anyhow. I'm thinking about this kind of 6th sense that photographers tend to develop, like sniffing in the air that something is happening, that some place may be an interesting spot. It's what happened when I was looking to buy a bottle of water close to Piata Unirii (Union Square). From all the shops around me, I've instinctively chosen the only one which was underground, with the entrance on one side, and the exit on the other side. And when reaching the exit… voilà.
I've found this metal stairway with walls made of undulated metal, such a great amount of lines! The sun was shining just in front of the exit, making the old man just a silhouette and the undulated metal shine in such an incredible way. I've just waited for the woman to reach the top of the stairs, and the photo was done. I wished I've shot more at this very spot, but the security guard was not in a good mood and asked me to leave. No problem, I know the place now, I'll be back!
Do you like this photo? Click here and get an original, signed print in limited edition!
EXIFs:
Camera:Fujifilm X100T
Aperture: ƒ/5.6
Focale: 23mm
Shutter speed: 1/125s
ISO: 400
Copyright: Pierre Pichot 2016, all rights reserved
https://pierrepichot.com/wp-content/uploads/2016/09/2016-09-13-Stairway-to..._web.jpg
800
1200
Pierre Pichot
https://pierrepichot.com/wp-content/uploads/2023/08/logo_2023.png
Pierre Pichot
2016-09-15 12:24:38
2016-09-15 11:25:00
Stairway to…