Get a print!
">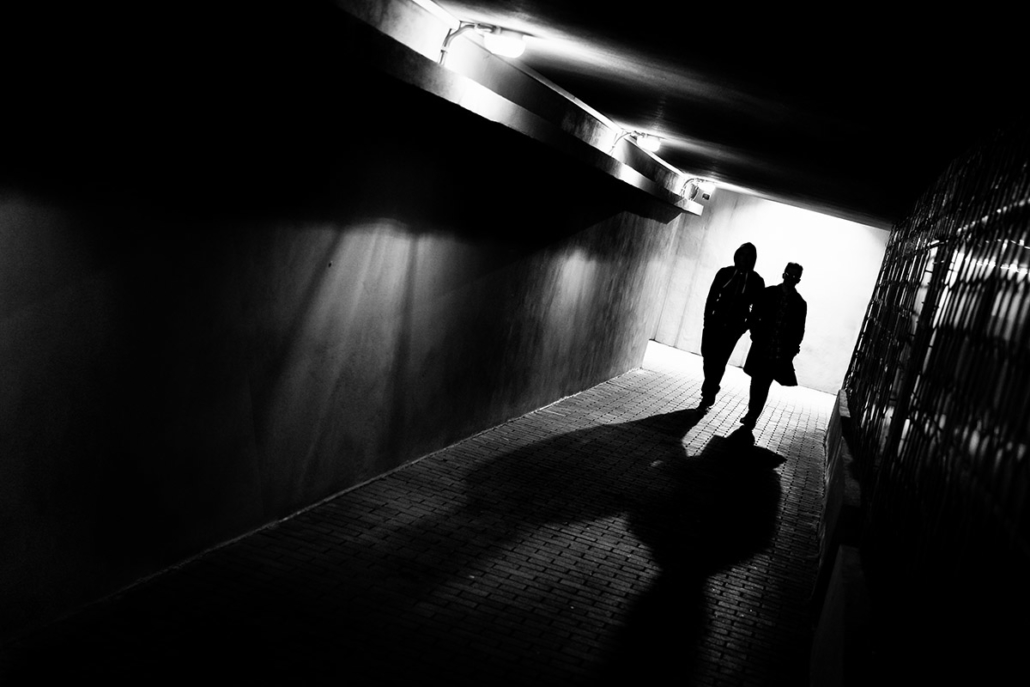 An unexpected duo. Cluj-Napoca, Romania, 2017.
Continuing my love for tunnels and corridors with this new photo from an underground passage in Manastur, Cluj-Napoca, Romania. This time, it was a raining evening, which means that the people preferred to go under the road in this creepy looking corridor rather than facing the rain outside. Good for me!
I spent some time experimenting with backlighting and the dutch angle. I've also had an interesting "chat" with two drunk people 😀 It was indeed an interesting evening. And then, a weird duo formed by lookalikes of Annie Lennox and Jean-Michel Jarre appears in front of me at the other side of the corridor. Pretty outstanding in my book 😀 Hopefully my framing was already tested on previously passing people, I just waited for their shadows to be at the right spot, and voilà!
Get a print!
Do you like this photo? Why not getting an original, signed fine art print in limited edition?
More about this photo
For me, it's important to share as much info as possible about the photos I take. Therefore, here are the EXIFs for this photo:
Camera: Canon 6D
Lens: Canon EF24-70mm f/2.8L II USM
Aperture: ƒ/2.8
Focale: 50mm
Shutter speed: 1/80s
ISO: 1600
Copyright: Pierre Pichot 2017, all rights reserved
http://pierrepichot.com/wp-content/uploads/2017/03/2017-02-22_Duo_web.jpg
800
1200
Pierre Pichot
http://pierrepichot.com/wp-content/uploads/2016/10/Logo_black-1.png
Pierre Pichot
2017-03-24 11:44:23
2017-03-24 11:44:23
An unexpected duo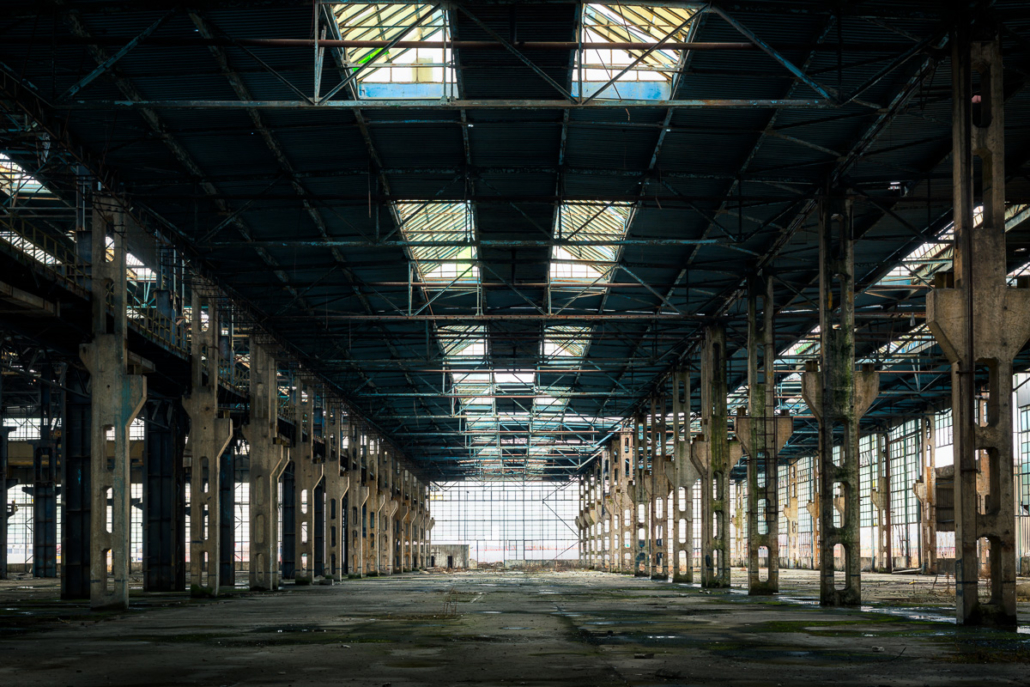 One of the old, abandoned CUG halls. Cluj-Napoca, Romania, 2017.
–
First photo essay of the year with a one of my favourite subjects, urban exploration! Today I go to the CUG, Combinat de Utilaj Greu (Heay Machinery Plant), that was created in the 1970's to become a state of the art plant. 30 years laters and the chute of the regime went by, the CUG is now the phantom of what it used to be.
Come with me for a visit of this highly rated urban exploration spot!
http://pierrepichot.com/wp-content/uploads/2017/03/2017-03-11_The-forgotten-factory_02_web.jpg
800
1200
Pierre Pichot
http://pierrepichot.com/wp-content/uploads/2016/10/Logo_black-1.png
Pierre Pichot
2017-03-17 11:58:11
2017-03-24 10:59:41
Photo Essay - Urban Exploration: Heavy Machinery Plant - Cluj-Napoca

By being a critique I don't mean being an arrogant knows it all 😉 It is actually the opposite: be able to share with the others your view on their photos and progress together (yes, together). And ultimately, make yourself a better photographer.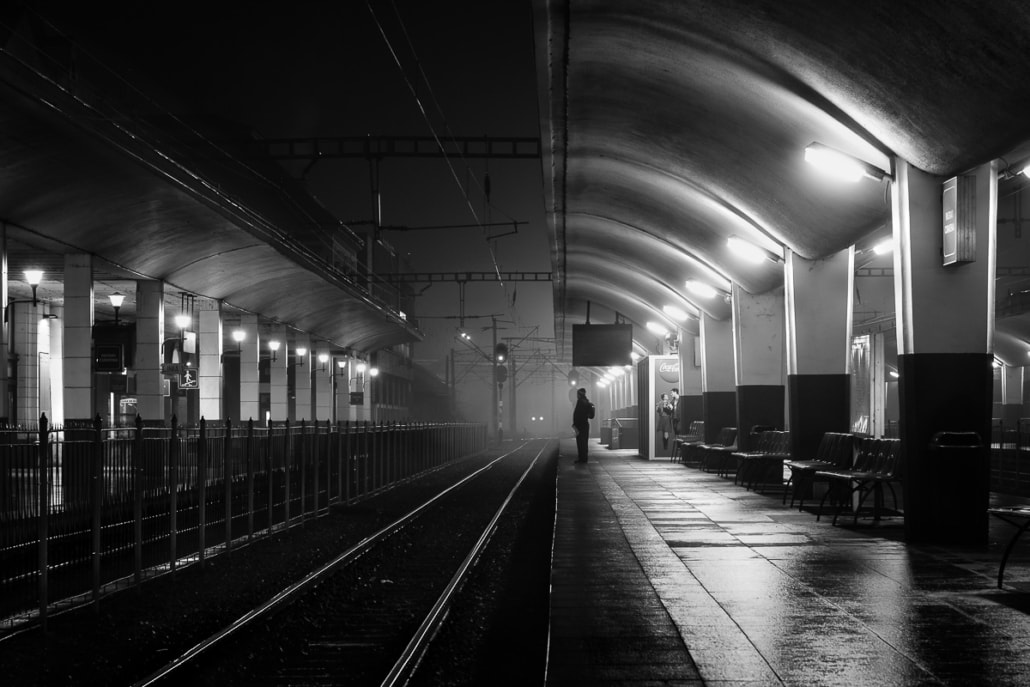 Strangers in the Dark VII. Cluj-Napoca, Romania, 2016. Get a fine art, original print in limited edition.
This photo has gone through several critique processes, internal (by me) and external (by peers) before reaching its final form.
–
Critique the others' work
I just love to give a constructive feedback on my peers' photos. Try to understand the strengths and the weaknesses of the photo, share your findings and propose eventuality a different approach. It's a very enriching experience for everyone: you help the photographer progress, and you develop your skills by analysing other people's photo. By understanding how this shot was done, you educate yourself!
The harder, by far, is to find the correct context. The people has to accept the fact that you are giving a feedback that is not 100% praises, and you have to formulate this feedback correctly in order to avoid shaming him/her. And keep things objective, constructive, whatever the reaction is. It may lead to some very interesting discussions and debates. Another way to progress on your communication skills too 😉
My experience is that is works better in smaller groups, online or IRL, rather than in large group. Knowing the persons involved allows a much easier communication. I have been part of a group of this kind for years now, it has helped me a lot by being critiqued first, and then being the critique. Knowing ourselves quite well now has really made the process much easier and to the point.
Be your own critique
And here is the best thing: be your own critique. After years of analyzing other people's photos I started to go through the same process with mine. It's way tougher as you are never totally objective about your own work. But being able to detach as much as possible from your work and look at it with a real critique eye is really mind blowing.
The gain? I am now able to filter much better the work I display, online or IRL, in a way that I am much more able to identify the strengths of my photos against the emotional attachment I may have. How often did I think a photo was good because I had a particular connection with it… but it wasn't that good in the end? Way too often. Therefore take your time and give a second, critique look to all the photos you'll leave in the wild.
Take away
As a short take away from this article:
Don't just look at the photos, also try to understand it
Share your findings with others and discuss it
Critique your own work!
http://pierrepichot.com/wp-content/uploads/2016/04/Pierre-Pichot_Strangers-in-the-dark-VII_web.jpg
800
1200
Pierre Pichot
http://pierrepichot.com/wp-content/uploads/2016/10/Logo_black-1.png
Pierre Pichot
2017-03-08 14:54:44
2017-03-08 14:54:44
Be a critique and become a better photographer